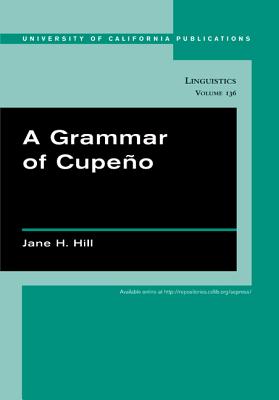 A Grammar of Cupeño (UC Publications in Linguistics #136) (Paperback)
University of California Press, 9780520246379, 550pp.
Publication Date: December 1, 2005
* Individual store prices may vary.
Description
In one of the most thorough studies ever prepared of a California language, Hill's grammar reviews the phonology, morphology, syntax and discourse features of Cupeño, a Uto-Aztecan (takic) language of California. Cupeño exhibits many unusual typological features, including split ergativity, that require linguists to revise our understanding of the development of the Uto-Aztecan family of languages in historical and areal perspective.
About the Author
Jane H. Hill is Regents Professor of Anthropology and Linguistics at the University of Arizona.