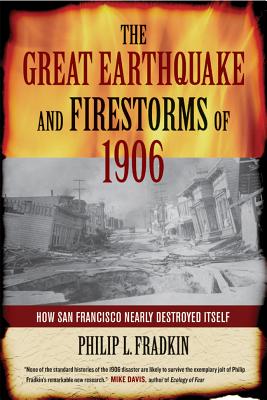 The Great Earthquake and Firestorms of 1906 (Paperback)
How San Francisco Nearly Destroyed Itself
University of California Press, 9780520248205, 448pp.
Publication Date: April 3, 2006
Other Editions of This Title:
MP3 CD (5/17/2016)
Hardcover (4/1/2005)
* Individual store prices may vary.
Description
The first indication of the prolonged terror that followed the 1906 earthquake occurred when a ship steaming off San Francisco's Golden Gate "seemed to jump clear out of the water." This gripping account of the earthquake, the devastating firestorms that followed, and the city's subsequent reconstruction vividly shows how, after the shaking stopped, humans, not the forces of nature, nearly destroyed San Francisco in a remarkable display of simple ineptitude and power politics. Bolstered by previously unpublished eyewitness accounts and photographs, this definitive history of a fascinating city caught in the grip of the country's greatest urban disaster will forever change conventional understanding of an event one historian called "the very epitome of bigness."

Philip Fradkin takes us onto the city's ruptured streets and into its exclusive clubs, teeming hospitals and refugee camps, and its Chinatown. He introduces the people—both famous and infamous—who experienced these events, such as Jack and Charmian London, Enrico Caruso, James Phelan, and Abraham Ruef. He traces the horrifying results of the mayor's illegal order to shoot-to-kill anyone suspected of a crime, and he uncovers the ugliness of racism that almost led to war with Japan. He reveals how an elite oligarchy failed to serve the needs of ordinary people, the heroic efforts of obscure citizens, the long-lasting psychological effects, and how all these events ushered in a period of unparalleled civic upheaval.

This compelling look at how people and institutions function in great catastrophes demonstrates just how deeply earthquake, fires, hurricanes, floods, wars, droughts, or acts of terrorism can shape us.
About the Author
This is the third book in Philip Fradkin's trilogy on earthquakes. The first two are Magnitude 8: Earthquakes and Life Along the San Andreas Fault (California, 1999) and Wildest Alaska: Journeys of Great Peril in Lituya Bay (California, 2001). Fradkin, who has lived adjacent to the San Andreas Fault for thirty years, is also the author of the acclaimed A River No More (California, 1996) and The Seven States of California (California, 1995), as well as many other books. He shared a Pulitzer Prize while at the Los Angeles Times.