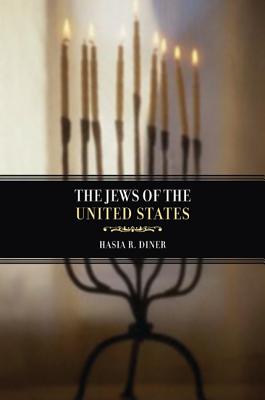 The Jews of the United States, 1654 to 2000 (Jewish Communities in the Modern World #4) (Paperback)
University of California Press, 9780520248489, 447pp.
Publication Date: May 30, 2006
Other Editions of This Title:
Hardcover (8/1/2004)
* Individual store prices may vary.
Description
Since Peter Stuyvesant greeted with enmity the first group of Jews to arrive on the docks of New Amsterdam in 1654, Jews have entwined their fate and fortunes with that of the United States—a project marked by great struggle and great promise. What this interconnected destiny has meant for American Jews and how it has defined their experience among the world's Jews is fully chronicled in this work, a comprehensive and finely nuanced history of Jews in the United States from 1654 through the end of the past century. Hasia R. Diner traces Jewish participation in American history—from the communities that sent formal letters of greeting to George Washington; to the three thousand Jewish men who fought for the Confederacy and the ten thousand who fought in the Union army; to the Jewish activists who devoted themselves to the labor movement and the civil rights movement.

Diner portrays this history as a constant process of negotiation, undertaken by ordinary Jews who wanted at one and the same time to be Jews and full Americans. Accordingly, Diner draws on both American and Jewish sources to explain the chronology of American Jewish history, the structure of its communal institutions, and the inner dynamism that propelled it. Her work documents the major developments of American Judaism—he economic, social, cultural, and political activities of the Jews who immigrated to and settled in America, as well as their descendants—and shows how these grew out of both a Jewish and an American context. She also demonstrates how the equally compelling urges to maintain Jewishness and to assimilate gave American Jewry the particular character that it retains to this day in all its subtlety and complexity.
About the Author
Hasia R. Diner is Paul S. and Sylvia Steinberg Professor of American Jewish History at New York University. She is the author of Lower East Side Memories: The Jewish Place in America (2000), Hungering for America: Italian, Irish, and Jewish Foodways in the Age of Migration (2001), and, with Beryl Benderly, Her Works Praise Her: A History of Jewish Women in America, 1654 to the Present (2002).
Praise For The Jews of the United States, 1654 to 2000 (Jewish Communities in the Modern World #4)…
"Informative, engaging, and well-researched."
— Western States Jewish History