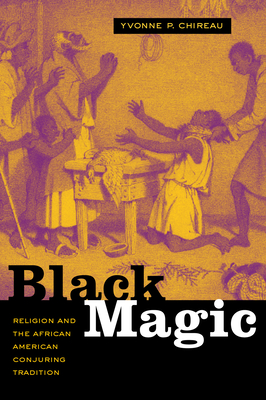 Black Magic
Religion and the African American Conjuring Tradition
Paperback

* Individual store prices may vary.
Description
Black Magic looks at the origins, meaning, and uses of Conjure—the African American tradition of healing and harming that evolved from African, European, and American elements—from the slavery period to well into the twentieth century. Illuminating a world that is dimly understood by both scholars and the general public, Yvonne P. Chireau describes Conjure and other related traditions, such as Hoodoo and Rootworking, in a beautifully written, richly detailed history that presents the voices and experiences of African Americans and shows how magic has informed their culture. Focusing on the relationship between Conjure and Christianity, Chireau shows how these seemingly contradictory traditions have worked together in a complex and complementary fashion to provide spiritual empowerment for African Americans, both slave and free, living in white America.

As she explores the role of Conjure for African Americans and looks at the transformations of Conjure over time, Chireau also rewrites the dichotomy between magic and religion. With its groundbreaking analysis of an often misunderstood tradition, this book adds an important perspective to our understanding of the myriad dimensions of human spirituality.
Praise For Black Magic: Religion and the African American Conjuring Tradition…
"Scholars of African American religions increasingly recognize the importance of non-Christian religious forms and traditions in African American history and contemporary African American social and cultural life, but we need books like Black Magic to help us plot out those forms and traditions in detail. . . . this book is indisputably a compelling, well-written examination of conjure, highly recommended for undergraduate courses on African American history and religions."
— Nova Religio: The Journal of Alternative and Emergent Religions

"This is a remarkably useful book on a subject too infrequently examined today. It is a must for any one interested in African American spirituality or diasporic studies."
— Western Folklore

"Chireau has produced an excellent study of the African American conjuring tradition. . . . [She] shows the important link between the conjure tradition and the healing practices of sanctified churches. . . . Highly recommended."
— CHOICE

"Black Magic persuasively supports the position that interpretive categories like 'religion' are social constructed."
— Journal for the Scientific Study of Religion

"Chireau has produced a rewarding account of areas of African-American experience that have been inadequately understood."
— Folklore
University of California Press, 9780520249882, 234pp.
Publication Date: November 20, 2006
About the Author
Yvonne P. Chireau is Associate Professor of Religion at Swarthmore College and coeditor, with N. Deutsch, of Black Zion: African American Religious Encounters with Judaism (2000).