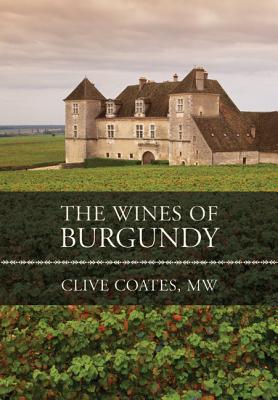 The Wines of Burgundy
Hardcover

* Individual store prices may vary.
Description
Ten years after the publication of the highly acclaimed, award-winning wine guide Côte D'Or: A Celebration of the Great Wines of Burgundy, the "Bible of Burgundy," Clive Coates now offers this thoroughly revised and updated sequel. This long-awaited work details all the major vintages from 2006 back to 1959 and includes thousands of recent tasting notes of the top wines, useful as a reference for wine pairing and a primer in how to taste wine. All-new chapters on Chablis and Côte Chalonnaise replace the previous volume's domain profiles. Coates, a Master of Wine who has spent much of the last thirty years in Burgundy, France, considers it to be the most exciting, complex, and intractable wine region in the world, its vineyards and wineries the most likely to yield fine wines of elegance and finesse. This coffee table book is an indispensable guide for the amateur sommelier and food and wine professionals alike by an internationally renowned wine expert, writing with his habitual expertise, lucidity, and unequaled firsthand knowledge.
Praise For The Wines of Burgundy…
"A solid, in-depth reference on Burgundy — the best, in fact, since Mr. Coates's own Côte d'Or. . . . An invaluable starting point. "
— New York Times
"Coates' magnum opus remains invaluable. . . . A must-have for Burgundy lovers.""
— San Francisco Chronicle
"Resembles the elegant, complex wines that are its subject."
— Bloomberg News
"Highly recommended to anyone with even the slightest interest in Burgundy."
— World Of Fine Wine
"I think my top 2008 recommendation as a reference book would be Clive Coates' The Wines of Burgundy."
— Jancis Robinson.com
"An indispensable guide for Burgundy collectors."
— Wine & Spirits Magazine
"Has the first and last word on the subject."
— Sante
"No serious Burgophile should be without it."
— Wine News
"The serious wine lover would be well advised to invest in this tome. And the less serious wine lover will considerably expand his understanding of one of the most fascinating areas in wine."
— Art of Eating
"Now the comprehensive guide to Burgundy vintages dating from 1959 to 2006. . . . Highly recommended for enological collections."
— Library Journal
University of California Press, 9780520250505, 896pp.
Publication Date: May 12, 2008
About the Author
Clive Coates, MW (Master of Wine), is a renowned wine writer. His fine wine magazine, The Vine, was published from 1984 to 2005. His books include Grands Vins: The Finest Châteaux of Bordeaux and Their Wine, An Encyclopedia of the Wines and Domaines of France, and The Wines of Bordeaux (all from UC Press).