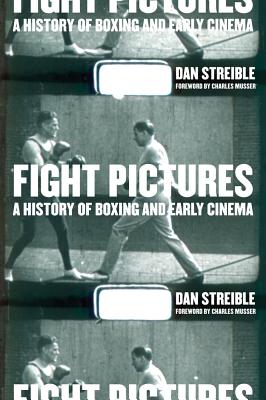 Fight Pictures
A History of Boxing and Early Cinema
Paperback

* Individual store prices may vary.
Description
The first filmed prizefight, Veriscope's Corbett-Fitzsimmons Fight (1897) became one of cinema's first major attractions, ushering in an era in which hugely successful boxing films helped transform a stigmatized sport into legitimate entertainment. Exploring a significant and fascinating period in the development of modern sports and media, Fight Pictures is the first work to chronicle the mostly forgotten story of how legitimate bouts, fake fights, comic sparring matches, and more came to silent-era screens and became part of American popular culture.
Praise For Fight Pictures: A History of Boxing and Early Cinema…
"Groundbreaking. . . . It offerss . . . the thrill of discovery, an opportunity to learn often-startling new information. . . . It is in every way a masterful piece of work."
— Leonard Maltin
"Rigorously researched."
— Sight & Sound Magazine
"A truly excellent recently published piece of scholarly film history. . . . Meticulously researched and highly illuminating."
— Dave Kehr
"The history of boxing and early cinema is now to be given its first thorough history with the publication of Dan Streible's long awaited Fight Pictures."
— Bioscope
"An important contribution to American film studies."
— David A. Gerstner
"Authoritative."
— Travis Vogan
"Written in a straightforward, sometimes punchy style. . . . Anyone interested in cinema, in boxing, or in the development of modern American society really should seek it out."
— Tribune (Uk)
"Chronicles the near forgotten story of how fights, fake bouts, sparring matches and silent era pictures became ingrained in American popular culture."
— Little White Lies
"This book is the result of several years of research and provides a rich account of fight films within the context of complex interactions among personalities and of the rapidly changing technological, economic, social, and legal landscapes of the late nineteenth and early twentieth centuries. It is the best and most complete account on the subject."
— The Journal Of American History
"[This] is an important contribution to the history of . . . cinema."
— Evan Rhodes
University of California Press, 9780520250758, 424pp.
Publication Date: April 11, 2008
About the Author
Dan Streible is Associate Professor in the Department of Cinema Studies at New York University and Associate Director of its Moving Image Archiving and Preservation master's program. He is also director of the Orphan Film Symposium.