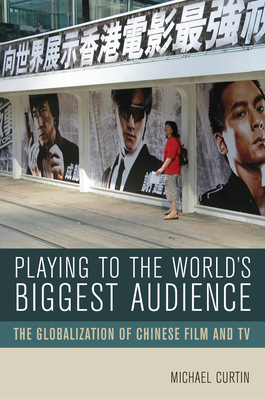 Playing to the World's Biggest Audience (Paperback)
The Globalization of Chinese Film and TV
University of California Press, 9780520251342, 353pp.
Publication Date: August 2, 2007
* Individual store prices may vary.
Description
In this provocative analysis of screen industries in China, Hong Kong, Taiwan, and Singapore, Michael Curtin delineates the globalizing pressures and opportunities that since the 1980s have dramatically transformed the terrain of Chinese film and television, including the end of the cold war, the rise of the World Trade Organization, the escalation of democracy movements, and the emergence of an East Asian youth culture. Reaching beyond national frameworks, Curtin examines the prospect of a global Chinese audience that will include more viewers than in the United States and Europe combined. He draws on in-depth interviews with a diverse array of media executives plus a wealth of historical material to argue that this vast and increasingly wealthy market is likely to shake the very foundations of Hollywood's century-long hegemony.

Playing to the World's Biggest Audience profiles the leading Chinese commercial studios and telecasters, and delves into the operations of Western conglomerates extending their reach into Asia. Advancing a dynamic and integrative theory of media capital, this innovative book explains the histories and strategies of screen enterprises that aim to become central players in the Global China market and offers an alternative perspective to recent debates about cultural globalization.
About the Author
Michael Curtin is Professor of Communication Arts and Director of Global Studies at the University of Wisconsin, Madison. He is also the author of Media Capital: The Cultural Geography of Globalization and Redeeming the Wasteland: Television Documentary and Cold War Politics.
Praise For Playing to the World's Biggest Audience: The Globalization of Chinese Film and TV…
"Rises impressively to the challenge of examining film and television throughout greater China in all its complexity."
— Times Literary Supplement (TLS)
"[A] compelling new study . . . . with entertaining anecdotes about government censors, Canto-pop stars, dodgy dot-com billionaires, and triad stand-over men sprinkled throughout . . . . [An] important work indeed-ambitious and interdisciplinary in scope, and a great read to boot."
— Senses Of Cinema
"Anyone wanting a comprehensive survey of recent and emerging developments in the television systems of Chinese-speaking territories . . . should read this book at the earliest opportunity."
— Journal Of Communication
"Based on solid historical material and extensive interviews, this book provides readers with a panoramic analysis of the Chinese film and TV industry… [It features] a rare combination of market and cultural analysis."
— Chinese Journal Of Communication
"An important work that successfully integrates film and television studies across the Diaspora reach of the 'global China market'."
— The China Journal
"Provides both history and contemporary analysis. . . . Playing to the World's Biggest Audience will attract scholars and business people wanting to understand the dynamics of Asian media."
— David Bordwell