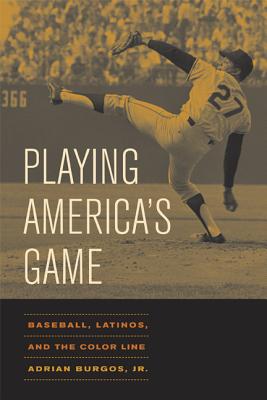 Playing America's Game (Paperback)
Baseball, Latinos, and the Color Line (American Crossroads #23)
University of California Press, 9780520251434, 384pp.
Publication Date: June 4, 2007
Other Editions of This Title:
Hardcover (6/1/2007)
* Individual store prices may vary.
Description
Although largely ignored by historians of both baseball in general and the Negro leagues in particular, Latinos have been a significant presence in organized baseball from the beginning. In this benchmark study on Latinos and professional baseball from the 1880s to the present, Adrian Burgos tells a compelling story of the men who negotiated the color line at every turn—passing as "Spanish" in the major leagues or seeking respect and acceptance in the Negro leagues.

Burgos draws on archival materials from the U.S., Cuba, and Puerto Rico, as well as Spanish- and English-language publications and interviews with Negro league and major league players. He demonstrates how the manipulation of racial distinctions that allowed management to recruit and sign Latino players provided a template for Brooklyn Dodgers' general manager Branch Rickey when he initiated the dismantling of the color line by signing Jackie Robinson in 1947. Burgos's extensive examination of Latino participation before and after Robinson's debut documents the ways in which inclusion did not signify equality and shows how notions of racialized difference have persisted for darker-skinned Latinos like Orestes ("Minnie") Miñoso, Roberto Clemente, and Sammy Sosa.
About the Author
Adrian Burgos Jr., is Assistant Professor of History at University of Illinois, Urbana-Champaign. He was a contributing author to Shades of Glory: The Negro Leagues and the Story of African American Baseball (2006), served on the Screening and Voting Committees for the National Baseball Hall of Fame's 2006 Special Election on the Negro Leagues, and consulted on the Hall's ¡Béisbol_Baseball! The Shared Pastime project.
Praise For Playing America's Game: Baseball, Latinos, and the Color Line (American Crossroads #23)…
"Fascinating"
— New York Times
"If you want to understand the Latino experience in baseball, read this book."
— Slate Magazine
"The best book yet on the history of Latinos in American baseball."
— Beyondchron
"Burgos does a thorough job of describing this system of skirting the color line, as well as its effects."
— Stephen Ellsesser
"Superb and, in many ways, path breaking . . . A must-read for any serious fan of baseball."
— San Francisco Chronicle
"Burgos has written a well-conceptualized, prodigiously researched, and cogently argued book."
— Journal Of American History
"Excellent book."
— Dan Brown
"A groundbreaking work."
— Centro: Journal Of Ctr For Puerto Rican Std
"An enlightened look at Latino players in baseball and their underappreciated efforts in defeating the sport's 'color line.'"
— Seattle Post-Intelligencer
"Burgos [uses] baseball to provide a more sophisticated and subtle account of the intersections between race and culture in America."
— Braham Dabscheck
"Well organized and expertly referenced, this is a book for anyone interested in the history of race in the US, ethnic relations, and, of course, baseball."
— Choice
"Burgos Jr. is an historian and has a professional's comfort with original-source documents, first-person accounts, and archival treasure hunts. His book reclaims the game's forgotten stars and championship squads."
— Literary Hub