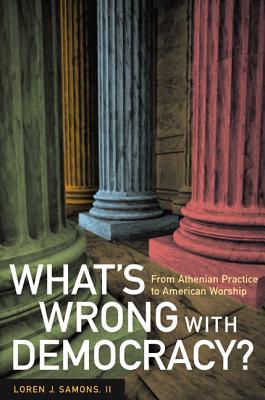 What's Wrong with Democracy?
From Athenian Practice to American Worship
Paperback

* Individual store prices may vary.
Description
Fifth-century Athens is praised as the cradle of democracy and sometimes treated as a potential model for modern political theory or practice. In this daring reassessment of classical Athenian democracy and its significance for the United States today, Loren J. Samons provides ample justification for our founding fathers' distrust of democracy, a form of government they scorned precisely because of their familiarity with classical Athens. How Americans have come to embrace "democracy" in its modern form—and what the positive and negative effects have been—is an important story for all contemporary citizens.

Confronting head-on many of the beliefs we hold dear but seldom question, Samons examines Athens's history in the fifth and fourth centuries B.C. in order to test the popular idea that majority rule leads to good government. Challenging many basic assumptions about the character and success of Athenian democracy, What's Wrong with Democracy? offers fascinating and accessible discussions of topics including the dangers of the popular vote, Athens's acquisitive foreign policy, the tendency of the state to overspend, the place of religion in Athenian society, and more.

Sure to generate controversy, Samons's bold and iconoclastic book finds that democracy has begun to function like an unacknowledged religion in our culture, immune from criticism and dissent, and he asks that we remember the Athenian example and begin to question our uncritical worship of democratic values such as freedom, choice, and diversity.
University of California Press, 9780520251687, 327pp.
Publication Date: April 23, 2007
About the Author
Loren J. Samons II is Associate Professor of Classical Studies and Associate Dean for Students, College of Arts and Sciences, Boston University. He is author of Empire of the Owl (2000), editor of Athenian Democracy and Imperialism (1998), and coauthor, with Charles W. Fornara, of Athens from Cleisthenes to Pericles (California, 1991).