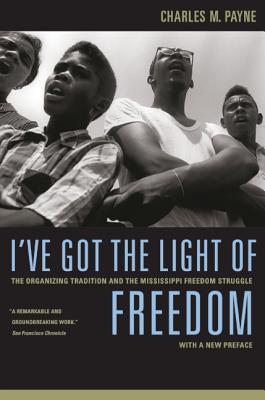 I've Got the Light of Freedom: The Organizing Tradition and the Mississippi Freedom Struggle (Paperback)
The Organizing Tradition and the Mississippi Freedom Struggle
University of California Press, 9780520251762, 525pp.
Publication Date: March 16, 2007
Description
"With this history of the civil rights movement focusing on Everyman-turned-hero, the commoner as crusader for justice, Payne challenges the old idea that history is the biography of great men."--Kirkus Reviews
"Remarkably astute in its judgments and strikingly sophisticated in its analyses . . . it is one of the most significant studies of the Black freedom struggle yet published."--David J. Garrow, author of the Pulitzer Prize-winning "Bearing the Cross"
"This extremely important book clearly reveals the logic of how ordinary people propelled the civil rights movement. . . . [It] provides a basis for optimism as we approach the next century."--Aldon Morris, author of "The Origins of the Civil Rights Movement"

About the Author
Charles M. Payne is Professor and Bass Fellow, African American Studies, History and Sociology, Duke University
Advertisement