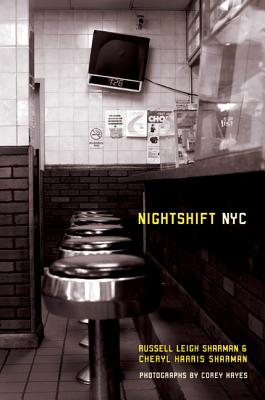 Nightshift NYC (Hardcover)
University of California Press, 9780520252714, 270pp.
Publication Date: November 10, 2008
* Individual store prices may vary.
Description
New York is the city that never sleeps. This luminous book peels back the cover of darkness over the city as it hums along in the night, revealing a hidden world populated by the thousands of women and men who work and live the nightshift. Written with beauty and grace, Nightshift NYC weaves together cultural critique, vivid reportage, and arresting photographs to trace the inverted logic of the city at night. Russell Leigh Sharman and Cheryl Harris Sharman spent a year interviewing and shadowing fry cooks and coffee jockeys, train conductors, cab hacks, and dozens of others who keep the city running when the sun goes down. Investigating familiar places such diners and delis, they explore some less familiar ones as well—taking us on a walking tour of homelessness in Manhattan, onto a fishing boat out of Brooklyn, and into other little-known corners of the night. Traveling past the threshold of voyeurism into the lives of real people, they depict a social space entirely apart—one that is highly structured and inherently subversive. Together, these stories open a compelling view on contemporary urban life and, along the way, reveal the soul of the city itself.
About the Author
Russell Leigh Sharman, Associate Professor of Anthropology at Brooklyn College, is author of The Tenants of East Harlem (UC Press). Cheryl Harris Sharman is a writer and researcher whose work has appeared in The Lancet, the Miami Herald, and the San Francisco Chronicle, among other publications.
Praise For Nightshift NYC…
"No book has ever examined the nature of nighttime work in the city . . . in as great depth and descriptive power."
— Sewell Chan