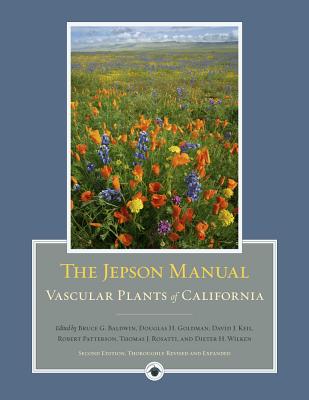 The Jepson Manual
Vascular Plants of California
Hardcover

* Individual store prices may vary.
Description
The second edition of The Jepson Manual thoroughly updates this acclaimed work, the single most comprehensive resource on California's amazingly diverse flora. Integrating the latest science with the results of intensive fieldwork, institutional collaboration, and the efforts of hundreds of contributing authors, this new edition is an essential reference on California's native and naturalized vascular plants.

This edition includes treatments of many newly described or discovered taxa and recently introduced plants, and it reflects major improvements in plant taxonomy. Nearly two-thirds of the 7,600 species, subspecies, and varieties that the volume describes are now illustrated with diagnostic drawings. Geographic distributions, elevation ranges, flowering times, nomenclature, and the status of non-natives and native taxa of special concern have all been updated throughout. The second edition also allows for identification of 240 alien taxa that are not fully naturalized and features a new chapter on geologic, climatic, and vegetation history of California.
Praise For The Jepson Manual: Vascular Plants of California…
"The book, with all its densely packed information, is an indispensable up-to-date treasure trove for academics and a flora to be envied by botanists from outside California."
— Plant Ecology and Evolution

"Another milestone in Californian botanical literature."
— Plant Science Bulletin

"Certainly one of the most comprehensive regional floras now available. . . . A wonderful resource and indispensible reference for anyone working with the flora of western North America and beyond."
— Economic Botany

"For serious wildflower enthusiasts, this is a must-have reference book."
— Desert Sun

"Based on new fieldwork and genetic analyses, UC Berkeley's Jepson Herbarium has overhauled its bible of the state's plants--grafting, pruning, growing, and splitting the taxonomic tree."
— Oakland Tribune

"A monumental work, one that every botanist in California will use; we thank the editors, authors, and the Jepson Herbarium for a job well done."
— Taxon
University of California Press, 9780520253124, 1600pp.
Publication Date: January 31, 2012
About the Author
Bruce G. Baldwin is Curator of the Jepson Herbarium and Professor of Integrative Biology at the University of California, Berkeley. Douglas H. Goldman is Herbarium Associate at the Harvard University Herbaria. David J. Keil is Professor Emeritus and Director of the Robert F. Hoover Herbarium at California Polytechnic State University, San Luis Obispo.Robert W. Patterson is Professor of Biology at San Francisco State University. Thomas J. Rosatti is Specialist at the University and Jepson Herbaria, University of California, Berkeley. Dieter H. Wilken is Director of Conservation at the Santa Barbara Botanic Garden.