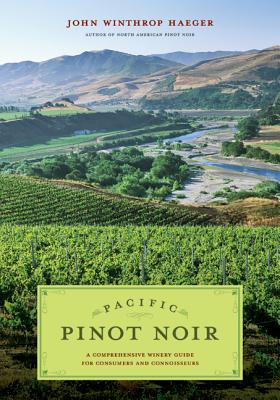 Pacific Pinot Noir
A Comprehensive Winery Guide for Consumers and Connoisseurs
Paperback

* Individual store prices may vary.
Description
Featuring more than two hundred in-depth winery profiles, this definitive guide is the best single source of information on world-renowned pinot noirs from California and Oregon. Drawing on his encyclopedic knowledge of a grape variety considered by many to produce the ultimate food wine, John Winthrop Haeger offers this expanded, updated companion volume to his award-winning North American Pinot Noir. Here, with three times the number of winery profiles, he focuses exclusively on what he calls the Pacific Pinot Zone, stretching from the mouth of the Columbia River in Oregon to Santa Barbara in California and extending up to thirty miles inland. An introductory essay provides an indispensable view of pinot noir in the United States—including the dramatic effect that the movie Sideways has had on its sales and production.

Pacific Pinot Noir features:

* Detailed descriptive tasting notes and selected vertical tastings

* At-a-glance graphics conveying information on tasting rooms, prices, and production for each winery

* Regional maps showing key viticultural areas

* Contact information for each winery
Praise For Pacific Pinot Noir: A Comprehensive Winery Guide for Consumers and Connoisseurs…
""Not only is this a handy guide for any pinot-phile, but it's also a good read."
— Wine & Spirits Magazine

"There is no excuse for any serious Pinot Noir lover not to have this new book. . . in their library. "
— Fermentation.com

A fabulous resource for anyone interested in American pinot noir — a minefield unless you traverse it with expert guidance.
— Denver Post

"Terrific"
— The Wine News

A useful discussion of the evolution of pinot noir. . . . Wth profiles of more than 200 pinot noir producers in California and Oregon.
— New York Times

An invaluable resource for anyone who loves pinot noir.
— San Jose Mercury News

"Will prove useful, informative, and entertaining to anyone who enjoys pinot noir wines—from the occasional consumer to grape growers and winemakers."
— Gastronomica

"Haeger is relentless and thorough, in noting each producer's history and what it does in vineyards and wineries ."
— Wine Spectator
University of California Press, 9780520253179, 496pp.
Publication Date: November 17, 2008
About the Author
John Winthrop Haeger is author of North American Pinot Noir (UC Press). Haeger writes about wine for Saveur and other publications.