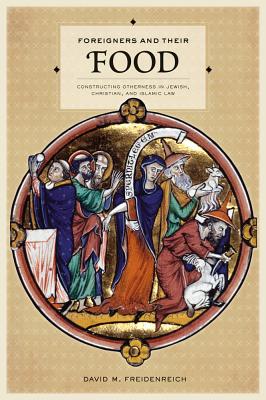 Foreigners and Their Food
Constructing Otherness in Jewish, Christian, and Islamic Law
Hardcover

* Individual store prices may vary.
Other Editions of This Title:
Paperback (12/19/2014)
Description
Foreigners and Their Food explores how Jews, Christians, and Muslims conceptualize "us" and "them" through rules about the preparation of food by adherents of other religions and the act of eating with such outsiders. David M. Freidenreich analyzes the significance of food to religious formation, elucidating the ways ancient and medieval scholars use food restrictions to think about the "other." Freidenreich illuminates the subtly different ways Jews, Christians, and Muslims perceive themselves, and he demonstrates how these distinctive self-conceptions shape ideas about religious foreigners and communal boundaries. This work, the first to analyze change over time across the legal literatures of Judaism, Christianity, and Islam, makes pathbreaking contributions to the history of interreligious intolerance and to the comparative study of religion.
Praise For Foreigners and Their Food: Constructing Otherness in Jewish, Christian, and Islamic Law…
"A very fine study. . . . Freidenreich's book . . . is an important contribution that will prove valuable. . . . A fascinating and useful examination."
— Irven M. Resnick

"His insights into how food helps define our identities is fascinating . . . It's impossible to do justice to Freidenreich's explanations."
— Rabbi Rachel Esserman

"[Freidenreich] coveys a meaningful message to all communitites that through dietary laws and restrictions we imagine ourselves and foreigners as others."
— Mehnaz M. Afridi

"The summary given [in my review] cannot capture the level of detail and nuance Freidenreich includes in this meticulously researched study... a creative, illuminating, and richly textured history."
— Thomas Devaney
University of California Press, 9780520253216, 352pp.
Publication Date: August 13, 2011
About the Author

David M. Freidenreich is the Pulver Family Associate Professor of Jewish Studies at Colby College.