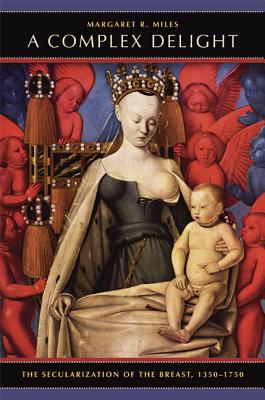 A Complex Delight
The Secularization of the Breast, 1350–1750
Hardcover

* Individual store prices may vary.
Description
Looking at painting and sculpture from the fourteenth through the eighteenth centuries, this provocative work focuses on the symbolism of the female breast to open a dazzling interpretive view of Western European history over four centuries. Margaret R. Miles finds that while in 1350 the Virgin's bare breast represented nourishment and loving care—God's provision for the Christian—by 1750, artistic representations of the breast were either erotic or medical. The breast had lost its meaning as a religious symbol. But how did the breast, and nakedness more generally, lose the ability to represent human bodies as site and symbol of religious subjectivity and commitment? To explore this phenomenon, Miles engages in a wide-ranging investigation of the social, cultural, and religious circumstances within which a religious symbol came to be thoroughly "mastered" by erotic and medical meanings. What emerges is a nuanced understanding of the location of power in early modern Western Europe, of how the lives of women changed over this period, of how art reveals and helps to construct religious meaning, and of how modern Christianity's attitude toward bodies was shaped.
Praise For A Complex Delight: The Secularization of the Breast, 1350–1750…
"A note of hope and a gesture toward a more erotic and mystical future."
— Church History

"[A] slender, provocative volume. . . . Miles has delivered a careful analysis that will prove essential and an enjoyable read."
— Preston Yancey
University of California Press, 9780520253483, 196pp.
Publication Date: January 7, 2008
About the Author
Margaret R. Miles is Emerita Professor at the Graduate Theological Union in Berkeley, California. She is author of The Word Made Flesh: A History of Christian Thought; Image as Insight: Visual Understanding in Western Christianity and Secular Culture; Carnal Knowing: Female Nakedness and Religious Meaning in the Christian West; Reading for Life: Beauty, Pluralism, and Responsibility, and Seeing and Believing: Religion and Values in the Movies.