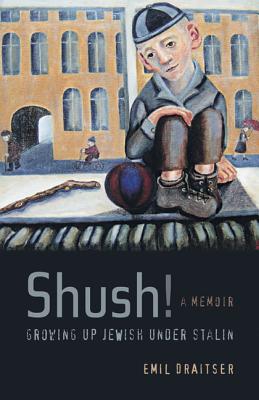 Shush! Growing Up Jewish under Stalin (Hardcover)
A Memoir
University of California Press, 9780520254466, 320pp.
Publication Date: September 4, 2008
* Individual store prices may vary.
Description
Many years after making his way to America from Odessa in Soviet Ukraine, Emil Draitser made a startling discovery: every time he uttered the word "Jewish"—even in casual conversation—he lowered his voice. This behavior was a natural by-product, he realized, of growing up in the anti-Semitic, post-Holocaust Soviet Union, when "Shush!" was the most frequent word he heard: "Don't use your Jewish name in public. Don't speak a word of Yiddish. And don't cry over your murdered relatives." This compelling memoir conveys the reader back to Draitser's childhood and provides a unique account of midtwentieth-century life in Russia as the young Draitser struggles to reconcile the harsh values of Soviet society with the values of his working-class Jewish family. Lively, evocative, and rich with humor, this unforgettable story ends with the death of Stalin and, through life stories of the author's ancestors, presents a sweeping panorama of two centuries of Jewish history in Russia.
About the Author
Emil Draitser is Professor of Russian at Hunter College of the City University of New York. In addition to his twelve books, his work has also appeared in the Los Angeles Times, the Partisan Review and the North American Review.
Praise For Shush! Growing Up Jewish under Stalin: A Memoir…
"Whimsical, heartfelt and candid."
— Kirkus Reviews
"This painful and acutely observed memoir will resonate with many readers."
— Publishers Weekly
"Speaks volumes about the steep price of decades of institutionalized anti-Semitism, and. . . the difficult journey. . . out from under its shadow."
— Irena Smith
"Sharp and eloquent. . . . This is a must-read for all of us so as to better appreciate the freedoms we have. . . . We should be thankful to Prof. Draitser for having written this book."
— Alan Jay Gerber
"Poignant. . . . Draitser's story is remarkable."
— Amelia Glaser, University of California, San Diego
"A wonderfully evocative memoir that captures the experience of a Jewish family in Soviet Odessa with poignancy and humor."
— East European Jewish Affairs
"[A] remarkable memoir."
— D. B. Johnson
"A significant contribution to our understanding of life in the Soviet Union and to the vital importance of speaking out against oppression."
— Buffalo Jewish Review
"A significant contribution to our understanding of life in the Soviet Union and to the vital importance of speaking out against oppression."
— Jewish Post & Opinion/About Books
or
Not Currently Available for Direct Purchase