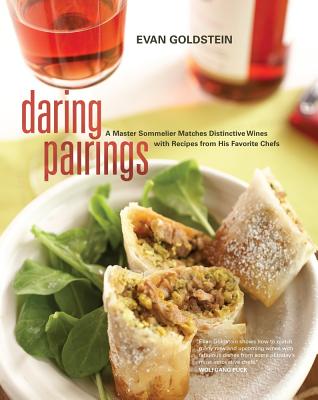 Daring Pairings (Hardcover)
A Master Sommelier Matches Distinctive Wines with Recipes from His Favorite Chefs
University of California Press, 9780520254787, 364pp.
Publication Date: April 28, 2010
* Individual store prices may vary.
Description
The best wine and food pairings create harmony among unexpected flavors. Chardonnay, Riesling, and Merlot are classic pairing choices, but less conventional grape varieties like Albariño, Grenache, Grüner Veltliner, Malbec, and Tempranillo are becoming increasingly popular, coveted by those with curious palates and a taste for good value. In Daring Pairings, the adventurous companion to the acclaimed Perfect Pairings, Master Sommelier Evan Goldstein shows how anyone can bring these emerging, exciting varieties to the table. He ventures into wine's new frontiers, exploring the flavors and pairing potential of thirty-six distinctive grapes from around the world, including Argentina, Spain, Italy, Greece, and France. In his entertaining and approachable style, Goldstein offers advice on crafting unforgettable wine and food pairings, suggests wines for everyday and special occasions, and recommends producers and importers. Thirty-six star chefs present recipes specially tailored to Goldstein's wine selections, and full-color photographs display these dishes in delectable splendor. This authoritative, down-to-earth guide reveals that pairing food and wine is no great mystery—anyone willing to explore or experiment can create bold and memorable combinations.

With recipes and commentary from:

Nate Appleman, Dan Barber, Ben Barker, Paul Bartolotta,Michelle Bernstein, Floyd Cardoz, Robert Del Grande, Tom Douglas, Suzanne Goin, Joyce Goldstein, Christopher Gross, Fergus Henderson, Gerald Hirigoyen, Philippe Jeanty, Douglas Keane, Hubert Keller, Loretta Keller, David Kinch, Evan Kleiman, Mourad Lahlou, Michael Leviton, Emily Luchetti, Laurent Manrique, Lachlan M. Patterson, Cindy Pawlcyn, Anne S. Quatrano, Michael Romano, Susan Spicer, Frank Stitt, Craig Stoll, Ethan Stowell, Charlie Trotter, Larry Tse, Richard Vellante, Vikram Vij, Kate Zuckerman
About the Author
Evan Goldstein is a Master Sommelier and a four-time James Beard Award nominee for Outstanding Wine and Spirits Professional of the Year. He is the author of Perfect Pairings (UC Press) and Five Star Service: Your Guide to Hospitality Excellence, and is President and Chief Education Officer of Full Circle Wine Solutions.
Praise For Daring Pairings: A Master Sommelier Matches Distinctive Wines with Recipes from His Favorite Chefs…
"A terrific book for anyone interested in answering the question, "Which wine with which dish?" But it's much more than that, serving as a detailed reference for less-mainstream wine grapes."
— Linda Murphy
Bringing to bear a wealth of knowledge and experience, Master Sommelier Goldstein offers some novel approaches.
— Booklist
"A comprehensive guide (for) the adventurous wine explorer."
— San Antonio Express-News
"A terrific book for anyone interested in answering the question, "Which wine with which dish?" "
— Linda Murphy
"Goldstein has put serious thought into how flavors of wines like Albarino work with food, a through-the-looking-glass work that educates on a little-considered topic."
— SF Chronicle
"Explores the pairing potential of 36 emerging grape varietals, matching each grape with recipes from star chefs."
— Food & Wine Online
"Provides a lot to chew on. . . . Can help casual drinkers who are reaching for a new wine by offering a range of food pairing tips."
— Dr. Vino
"An exploration of 36 wine varieties. Each wine is paired with a recipe tailored for the match by a renowned chef."
— La Cucina Italiana
"One-up(s) his own 2006 "Perfect Pairings" by concentrating on wines from 36 lesser-known grape varieties. "
— Washington Post