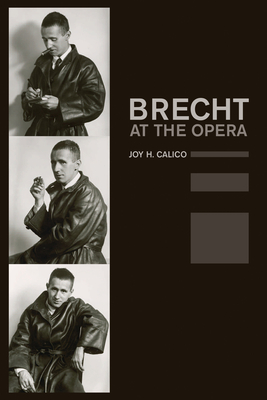 Brecht at the Opera (California Studies in 20th-Century Music #9)
Hardcover

* Individual store prices may vary.
Other Editions of This Title:
Paperback (9/17/2019)
Description
From an award-winning author, the first thorough examination of the important influence of opera on Brecht's writings.

Brecht at the Opera looks at the German playwright's lifelong ambivalent engagement with opera. An ardent opera lover in his youth, Brecht later denounced the genre as decadent and irrelevant to modern society even as he continued to work on opera projects throughout his career. He completed three operas and attempted two dozen more with composers such as Kurt Weill, Paul Hindemith, Hanns Eisler, and Paul Dessau. Joy H. Calico argues that Brecht's simultaneous work on opera and Lehrstück in the 1920s generated the new concept of audience experience that would come to define epic theater, and that his revisions to the theory of Gestus in the mid-1930s are reminiscent of nineteenth-century opera performance practices of mimesis.
Praise For Brecht at the Opera (California Studies in 20th-Century Music #9)…
"Excellent. . . . Recommended."
— Opera Journal

"[An] illuminating way to reconsider opera in the post-Brecht era."
— Opera

"Joy Calico's new study of Brecht's work with, in, and against opera deserves to be celebrated across the scholarly spectrum of Brecht studies. Literary scholars will find a subtle, well-grounded, and revealing new exploration of Brecht's textual practices- including some new drafts and revisions of passages of text from his later opera projects that expand the available source material."
 
— Brecht Yearbook

"Demonstrates an astonishing breadth of familiarity with the critical literature, and is able to apply insights from it to her own investigations with uncommon lucidity. [Calico] has also done some excellent archival sleuthing."
— Stephen Luttmann,

"Thoughtful and engaging . . . an impressive debut monograph, and an important one besides; it helps document, with elegance and sensitivity, Brecht's profound indebtedness and contribution to opera and musical theater. Hopefully, it will inspire other Brecht projects."
— Howard Pollack,

"A noteworthy, compelling, and occasionally provocative addition to the vast body of literature about Brecht that even literary scholars would not want to miss perusing."
— H-German

"An impressive book. . . .impeccably researched"
— Comparative Drama

"[A] unique scholarly angle—a combination of musicology, performance studies, and cultural history—[which] generates a whole set of new perspectives and theories on Brecht's work and on 20th-century opera more generally. . . . The result is a study on Brecht that makes a strong case for a continued interest in this writer, and for the increasingly inter-disciplinary approach of a New Musicology."
— German Quarterly

"Brilliant scholarship. . . .does well beyond full justice both to Brecht and to opera."
— Politische Traulichkeiten / Political Intimacies
University of California Press, 9780520254824, 304pp.
Publication Date: August 4, 2008
About the Author
Joy H. Calico is Cornelius Vanderbilt Professor of Musicology and Professor of German Studies at Vanderbilt University. She is the author of Arnold Schoenberg's 'A Survivor from Warsaw' in Postwar Europe.