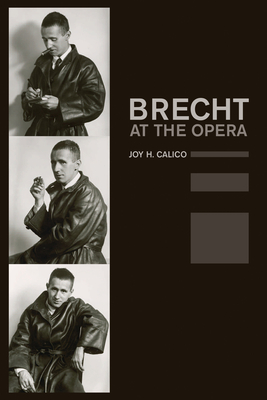 Brecht at the Opera (California Studies in 20th-Century Music #9) (Hardcover)
University of California Press, 9780520254824, 304pp.
Publication Date: August 4, 2008
Other Editions of This Title:
Paperback (10/20/2019)
* Individual store prices may vary.
Description
From an award-winning author, the first thorough examination of the important influence of opera on Brecht's writings.

Brecht at the Opera looks at the German playwright's lifelong ambivalent engagement with opera. An ardent opera lover in his youth, Brecht later denounced the genre as decadent and irrelevant to modern society even as he continued to work on opera projects throughout his career. He completed three operas and attempted two dozen more with composers such as Kurt Weill, Paul Hindemith, Hanns Eisler, and Paul Dessau. Joy H. Calico argues that Brecht's simultaneous work on opera and Lehrstück in the 1920s generated the new concept of audience experience that would come to define epic theater, and that his revisions to the theory of Gestus in the mid-1930s are reminiscent of nineteenth-century opera performance practices of mimesis.
About the Author
Joy H. Calico is Cornelius Vanderbilt Professor of Musicology and Professor of German Studies at Vanderbilt University. She is the author of Arnold Schoenberg's 'A Survivor from Warsaw' in Postwar Europe.
Praise For Brecht at the Opera (California Studies in 20th-Century Music #9)…
"A noteworthy, compelling, and occasionally provocative addition to the vast body of literature about Brecht that even literary scholars would not want to miss perusing."
— Eve M. Duffy
"An impressive book: impeccably researched, with two essential and pioneering chapters and three more which have much of interest to offer."
— Michael Ewans
"Excellent. . . . Recommended."
— John Harrison, University of Northern Colorado