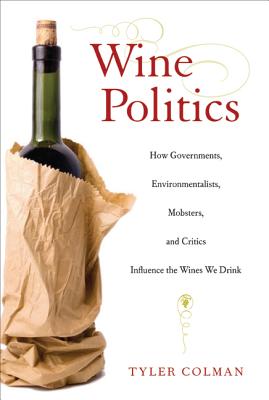 Wine Politics
How Governments, Environmentalists, Mobsters, and Critics Influence the Wines We Drink
Hardcover

* Individual store prices may vary.
Other Editions of This Title:
Paperback (11/10/2010)
Description
After reading this intriguing book, a glass of wine will be more than hints of blackberries or truffles on the palate. Written by the author of the popular, award-winning website DrVino.com, Wine Politics exposes a little-known but extremely influential aspect of the wine business—the politics behind it. Tyler Colman systematically explains how politics affects what we can buy, how much it costs, how it tastes, what appears on labels, and more. He offers an insightful comparative view of wine-making in Napa and Bordeaux, tracing the different paths American and French wines take as they travel from vineyard to dining room table. Colman also explores globalization in the wine business and illuminates the role of behind-the-scenes players such as governments, distributors, and prominent critics who wield enormous clout. Throughout, Wine Politics reveals just how deeply politics matters— right down to the taste of the wine in your glass tonight.
Praise For Wine Politics: How Governments, Environmentalists, Mobsters, and Critics Influence the Wines We Drink…
"An enlightening volume on a complex topic."
— Publishers Weekly

"Contain(s) so much history, data and anecdotes in a highly readable 144 pages."
— John Mariani

"It is the kind of book a wine economist would want to read and gift as a gift to friends. "
— Journal Of Wine Economics

"Exposes a little-known but influential aspect of the wine business: the politics behind it."
— Times Higher Ed Sup (Thes)

"A fascinating and fast-paced ride. . . . His accomplishment is remarkable."
— Gastronomica: Journal Of Food & Culture

'A delight to read with its clear prose and fluid style."
— Good Wine Under $20

"I'm not aware of any other single volume that pulls so many strands of research and analysis together in such a readable package.'
— Vinography

"Succinct and up-to-date. . . . Recommended."
— Philip Whalen, Coastal Carolina University

Serious and provocative
— Chicago Tribune
University of California Press, 9780520255210, 208pp.
Publication Date: July 14, 2008
About the Author
Tyler Colman teaches wine classes at New York University and the University of Chicago. He contributed to the third edition of The Oxford Companion to Wine and his articles have appeared in Food & Wine and Wine & Spirits.