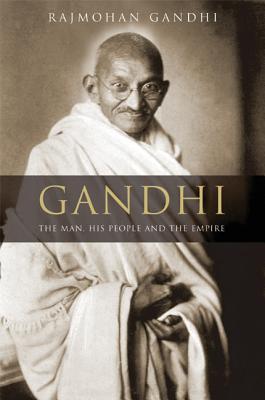 Gandhi
The Man, His People, and the Empire
Hardcover

* Individual store prices may vary.
Description
This monumental biography of one of the most intriguing figures of the twentieth century, written by his grandson, is the first to give a complete and balanced account of Mahatma Gandhi's remarkable life, the development of his beliefs and his political campaigns, and his complex relations with his family. Written with unprecedented insight and access to family archives, it reveals a life of contrasts and contradictions: the westernized Inner Temple lawyer who wore the clothes of India's poorest and who spun cotton by hand, the apostle of nonviolence who urged Indians to enlist in the First World War, the champion of Indian independence who never hated the British. It tells of Gandhi's campaigns against racial discrimination in South Africa and untouchability in India, tracks the momentous battle for India's freedom, explores the evolution of Gandhi's strategies of non-violent resistance, and examines relations between Muslims and non-Muslims, a question that attracted Gandhi's passionate attention and one that persists around the world today. Published to rave reviews in India in 2007, this riveting book gives North American readers the true Gandhi, the man as well as the legend, for the first time.
Praise For Gandhi: The Man, His People, and the Empire…
"Gandhi has skillfully narrated events in the life of his grandfather, Mohandas Karamchand Gandhi. . . . [An] excellent book." (Starred Review)
— Uma Doraiswamy, Western Kentucky Univ. Lib., Bowling Green

"A monumental biography that looks likely to stand as definitive for the foreseeable future."
— Michael Buettner

"I was not prepared to be as educated, entertained, and inspired as I was by this mighty work of his grandson Rajmohan Gandhi."
— Michael N. Nagler
University of California Press, 9780520255708, 759pp.
Publication Date: March 10, 2008
About the Author
Rajmohan Gandhi is Research Professor at the Center for South Asian and Middle Eastern Studies, University of Illinois at Urbana-Champaign. A former member of the Rajya Sabha (the upper house of the Indian Parliament), he led the Indian delegation to the UN Human Rights Commission in 1990. His other books include Ghaffar Khan: Nonviolent Badshah of the Pakhtuns, Revenge & Reconciliation: Understanding South Asian History, and Eight Lives: A Study of the Hindu-Muslim Encounter.
or
Not Currently Available for Direct Purchase