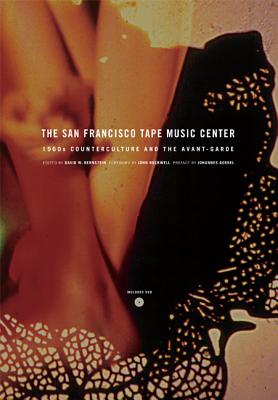 The San Francisco Tape Music Center (Paperback)
1960s Counterculture and the Avant-Garde
University of California Press, 9780520256170, 344pp.
Publication Date: July 8, 2008
Other Editions of This Title:
Hardcover (6/1/2008)
* Individual store prices may vary.
Description
This book tells the story of the influential group of creative artists—Pauline Oliveros, Morton Subotnick, Ramon Sender, William Maginnis, and Tony Martin—who connected music to technology during a legendary era in California's cultural history. An integral part of the robust San Francisco "scene," the San Francisco Tape Music Center developed new art forms through collaborations with Terry Riley, Steve Reich, David Tudor, Ken Dewey, Lee Breuer, the San Francisco Actor's Workshop, the San Francisco Mime Troupe, the Ann Halprin Dancers' Workshop, Canyon Cinema, and others. Told through vivid personal accounts, interviews, and retrospective essays by leading scholars and artists, this work, capturing the heady experimental milieu of the sixties, is the first comprehensive history of the San Francisco Tape Music Center.
About the Author
David W. Bernstein is Professor of Music and Head of the Music Department at Mills College. He is coeditor, with Christopher Hatch, of Writings Through John Cage's Music, Poetry, and Art and Music Theory and the Exploration of the Past.
Praise For The San Francisco Tape Music Center: 1960s Counterculture and the Avant-Garde…
"An outlandish episode on nearly every page of this book. . . . A probing account."
— Los Angeles Times
"The excitement of exploration and the delight in fortuitous accident come through in the many firstperson accounts and interviews which make up the bulk of David W. Bernstein's marvellous account of the Center."
— Times Literary Supplement (TLS)
"[An] extremely accessible and often inspiring book . . . . Comprehensive [and] fascinating."
— Stephen Vitiello
"Provides the first comprehensive history of the Tape Music Center . . . . The collision of historically incompatible characters is hard to believe: It is a Kevin Bacon game . . . of avant-garde and pop culture in the '60s."
— Cory Arcangel
"A rich and multilayered history. . . . [Sheds] light on a little-discussed corner of 1960s counterculture in the United States."
— Journal Of The Society For American Music (Jsam)
"From its handsome design to its wealth of vibrant photos, [this book] stands apart from the usual academic press fare, which is fitting considering its subject. . . . A document of ballsy innovation and gutsy invention."
— Skyscraper
"Lively . . . [It} not only deflates the notion of New York as the center of experimental music innovation in the second half of the 20th century, but testifies to the ingenuity and invention of a ragtag band of composers, musicians, dancers, visual artists, and explorers."
— The Score