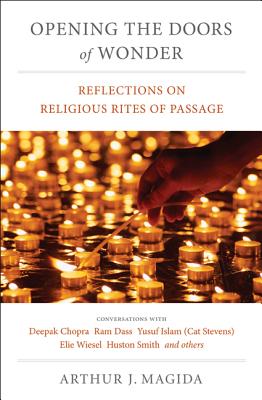 Opening the Doors of Wonder: Reflections on Religious Rites of Passage (Paperback)
Reflections on Religious Rites of Passage
University of California Press, 9780520256255, 294pp.
Publication Date: April 16, 2008
* Individual store prices may vary.
or
Not Currently Available for Direct Purchase
Description
This bold, pioneering book explores rites of passage in America by sifting through the accounts of influential thinkers who experienced them. Arthur J. Magida explains the underlying theologies, evolution, and actual practice of Jewish bar and bat mitzvahs, Christian confirmations, Hindu sacred thread ceremonies, Muslim shahadas and Zen jukai ceremonies. In rare interviews, renowned artists and intellectuals such as Nobel laureate Elie Wiesel, holistic guru Deepak Chopra, singer Yusuf Islam (Cat Stevens), actress/comedienne Julia Sweeney, cartoonist Roz Chast, interfaith maven Huston Smith, and many more talk intimately about their religious backgrounds, the rites of passage they went through, and how these events shaped who they are today. Magida compares these coming of age ceremonies' origins and evolution, considers their ultimate meaning and purpose, and gauges how their meaning changes with individuals over time. He also examines innovative rites of passage that are now being "invented" in the United States. Passionate and lyrical, this absorbing book reveals our deep, ultimate need for coming-of-age events, especially in a society as fluid as ours. Conversations with: Bob Abernethy, Huston Smith, Julia Sweeney, Roz Chast, Harold Kushner, Ram Dass, Elie Wiesel, Deepak Chopra, Robert Thurman, Coleman Barks, Yusuf Islam (Cat Stevens), And others
About the Author
Arthur J. Magida is Adjunct Professor at Georgetown University and author of The Rabbi and the Hit Man, Prophet of Rage, and How to Be a Perfect Stranger.
Advertisement