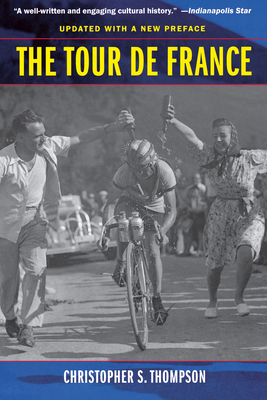 The Tour de France, Updated with a New Preface (Paperback)
A Cultural History
University of California Press, 9780520256309, 406pp.
Publication Date: April 7, 2008
* Individual store prices may vary.
Description
In this highly original history of the world's most famous bicycle race, Christopher S. Thompson, mining previously neglected sources and writing with infectious enthusiasm for his subject, tells the compelling story of the Tour de France from its creation in 1903 to the present. Weaving the words of racers, politicians, Tour organizers, and a host of other commentators together with a wide-ranging analysis of the culture surrounding the event—including posters, songs, novels, films, and media coverage—Thompson links the history of the Tour to key moments and themes in French history. Examining the enduring popularity of Tour racers, Thompson explores how their public images have changed over the past century. A new preface explores the long-standing problem of doping in light of recent scandals.
About the Author
Christopher S. Thompson is Associate Professor of History at Ball State University.
Praise For The Tour de France, Updated with a New Preface: A Cultural History…
"There are several books to tell you who first won the yellow jersey or the identity of the youngest post-war winner of the Tour de France, the kind you might receive as a gift. This is sort of book you'd buy for yourself."
— //Inrng: The Inner Ring
"This book is filled fascinating material. . . . Thompson has made a great deal of sense out of this complicated story."
— Podium Cafe
"A comprehensive history of France from the race's inception, long before Greg LeMond or Lance Armstrong were born."
— The Bike Blog-Albany Times Union