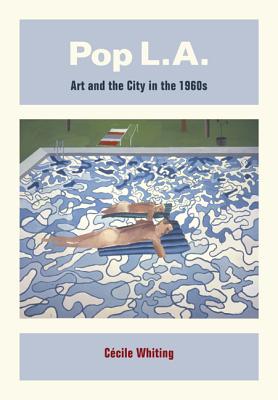 Pop L.A. (Paperback)
Art and the City in the 1960s
University of California Press, 9780520256347, 268pp.
Publication Date: August 4, 2008
* Individual store prices may vary.
Description
Andy Warhol said about his road trip to Los Angeles in 1963: "The farther West we drove, the more Pop everything looked on the highways." In this original and engaging book, Cécile Whiting examines what Pop looked like when it left the highbrow cloisters of Manhattan's art galleries and ventured westward to the sprawling suburbs of Los Angeles. She finds that the artists who made California their home in the 1960s did not abandon their paint brushes for tennis rackets and surfboards, but rather created in their works a new and different sense of space, the urban experience, and popular culture.

Whiting shows how artists such as Vija Celmins, Llyn Foulkes, David Hockney, Dennis Hopper, Allan Kaprow, Claes Oldenburg, Ed Ruscha, and Judy Chicago helped to shape the identity of Los Angeles as an emerging art center, while avoiding in their representation of the city the clichés of both its boosters and its detractors. Delving deep into the southern California aesthetic sensibility, Pop L.A. recounts how the artists transformed the image of the city in works that focused on the ocean and landscape, suburban life, dilapidated houses in aging neighborhoods, streets and parking lots, and public buildings such as the Los Angeles County Museum of Art. The common bond of place, for Whiting, gives coherence to the varied experiments in the visual and performance arts that altered the cultural terrain during this pivotal time. The Los Angeles art scene in the 1960s inspired a new generation of architectural writing about the metropolis and its debased sister city, Las Vegas. Over the course of the decade, the conception of the city pioneered by artists in Los Angeles spread beyond the city of angels to characterize cultural life in the United States.
About the Author
Cécile Whiting is Professor of Art History at the University of California, Irvine, and author of A Taste for Pop: Pop Art, Gender, and Consumer Culture (1997) and Antifascism in American Art (1989).
Praise For Pop L.A.: Art and the City in the 1960s…
"Pioneering. . . . Whiting's project will be central to any further work on West Coast art in the postwar period."
— Art Journal - College Art Association
"The rise in the 1960s of Los Angeles to "Second Art City"—an artistic centre in a city famously without any obvious centre itself, perfectly prefiguring the decentred post-modern metropolis—is charted evocatively with a selective history of the art and artists while considering its rapidly expanding network of museums, galleries, art schools, and critical channels within the context of urban and economic development."
— The Art Newspaper
"[Whiting] indicates the direction of critical engagement with Pop as we move away from the New York-centered world of Pop art."
— CAA Reviews
"Whiting's solid scholarship lends credence to her clearly-stated arguments."
— Art Times
"The first in-depth examination of Los Angeles as both the focus of and inspiration for such art forms as photography, painting, and sculpture. She presents a strong collection of images that cover not just the expected sunny beaches but also Los Angeles's urban and suburban landscapes. What will stay with the reader is how this innovative depiction of a particular time and period in a city's history began to shape American cultural life in a way that still exists."
— Library Journal
"The analysis is sharp, the material is rich, the writing is lucid, and the illustrations solidify our grasp of the argument. It is a fascinating study that enriches our understanding of the cultural history of Los Angeles as well as of American art during the 1960s."
— Southern California Quarterly
Takes readers on a great ride."
— Antiques and the Arts Weekly