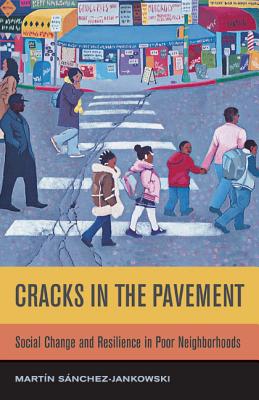 Cracks in the Pavement
Social Change and Resilience in Poor Neighborhoods
Paperback

* Individual store prices may vary.
Description
Woven throughout with rich details of everyday life, this original, on-the-ground study of poor neighborhoods challenges much prevailing wisdom about urban poverty, shedding new light on the people, institutions, and culture in these communities. Over the course of nearly a decade, Martín Sánchez-Jankowski immersed himself in life in neighborhoods in New York and Los Angeles to investigate how social change and social preservation transpire among the urban poor. Looking at five community mainstays—the housing project, the small grocery store, the barbershop and the beauty salon, the gang, and the local high school—he discovered how these institutions provide a sense of order, continuity, and stability in places often thought to be chaotic, disorganized, and disheartened. His provocative and ground-breaking study provides new data on urban poverty and also advances a new theory of how poor neighborhoods function, illuminating the creativity and resilience that characterize the lives of those who experience the hardships associated with economic deprivation.
Praise For Cracks in the Pavement: Social Change and Resilience in Poor Neighborhoods…
There is much to be learned from this perceptive and thoughtful book. . . . [An] intellectually courageous book that deserves broad attention."
— Beyondchron
"A well-written sociological study . . . completely free of academic jargon. Would appeal to the general reader as well as to an academic audience."
— Multicultural Review
University of California Press, 9780520256750, 504pp.
Publication Date: September 2, 2008
About the Author
Martín Sánchez-Jankowski is Professor of Sociology and Director of the Center for Urban Ethnography at the University of California, Berkeley. He is author of Islands in the Street: Gangs and American Urban Society (UC Press), among other books.