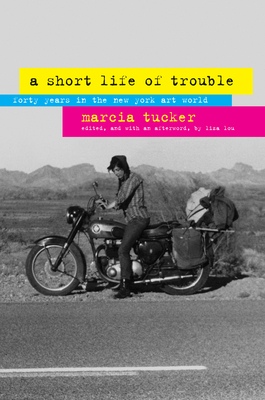 A Short Life of Trouble (Hardcover)
Forty Years in the New York Art World
University of California Press, 9780520257009, 224pp.
Publication Date: October 22, 2008
Other Editions of This Title:
Paperback (5/20/2010)
* Individual store prices may vary.
Description
This engrossing memoir brings to vivid life the behind-the-scenes struggles of Marcia Tucker, the first woman to be hired as a curator at the Whitney Museum of American Art and the founder of the New Museum of Contemporary Art in New York City. Tucker came of age in the 1960s, and this spirited account of her life draws the reader directly into the burgeoning feminist movement and the excitement of the New York art world during that time. Her own new ways of thinking led her to take principled stands that have changed the way art museums consider contemporary art. As curator of painting and sculpture at the Whitney, she organized major exhibitions of the work of Lee Krasner, Joan Mitchell, Robert Morris, Bruce Nauman, and Richard Tuttle, among others. As founder of the New Museum of Contemporary Art, she organized and curated groundbreaking exhibitions that often focused on the nexus of art and politics. The book highlights Tucker's commitment to forging a new system when the prevailing one proved too narrow for her expansive vision.
About the Author
Marcia Tucker, who died in 2006, was a curator of contemporary art and the founder and director of the New Museum of Contemporary Art in New York City. Liza Lou is an artist.
Praise For A Short Life of Trouble: Forty Years in the New York Art World…
"Offers some much-needed inspiration [and] ample evidence of Tucker's take-no-prisoners attitude and passion for "difficult" art."
— New York Times Book Review
"A remarkable piece of writing. . . . [Tucker] has composed a literary monument to her heroic life in art, as moving as it is entertaining."
— Artforum
"A candid, entertaining, and illuminating account of the 1960s art world. . . . A perfect antidote to this bloated, spectacle-heavy moment."
— Martha Schwendener
Marcia Tucker's courage, conviction and chutzpah are inspiration for those of us who seek to lead meaningful professional lives."
— Museum
"A vivid, candid, self-critical and moving account of Tucker's life. . . . Novice curators should find it inspiring."
— John A. Walker
"An unassuming, humbled, even self-effacing metaphor for the art that is life in the art milieu."
— Migill Book Reviews
"Tucker's book is conventional, accessible, even chatty. But this modest volume, in concert with the shiny playful building on the Bowery, denotes a remarkable legacy."
— Village Voice
"A good book about a good person."
— Art + Auction
"A great read [and] a page turner. . . . In less than 200 pages she encapsulates her life, sharing her triumphs and insecurities."
— Pelican Press
"A joyful exploration of all things art-related. . . . Tucker's balanced assessment of her work and personal life is commendable."
— Bust