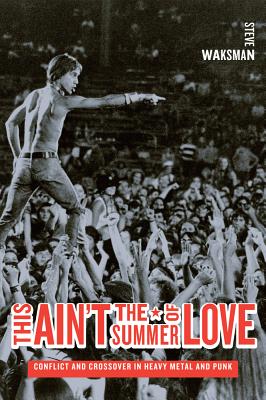 This Ain't the Summer of Love (Paperback)
Conflict and Crossover in Heavy Metal and Punk
University of California Press, 9780520257177, 398pp.
Publication Date: February 4, 2009
* Individual store prices may vary.
Description
This lively and entertaining revisionist history of rock music after 1970 reconsiders the roles of two genres, heavy metal and punk. Instead of considering metal and punk as aesthetically opposed to each other, Steve Waksman breaks new ground by showing that a profound connection exists between them. Metal and punk enjoyed a charged, intimate relationship that informed both genres in terms of sound, image, and discourse. This Ain't the Summer of Love traces this connection back to the early 1970s, when metal first asserted its identity and punk arose independently as an ideal about what rock should be and could become, and upends established interpretations of metal and punk and their place in rock history.
About the Author
Steve Waksman is Associate Professor of Music and American Studies at Smith College. He is the author of Instruments of Desire: The Electric Guitar and the Shaping of Musical Experience.
Praise For This Ain't the Summer of Love: Conflict and Crossover in Heavy Metal and Punk…
"One of the more potent and persuasive pieces of recent cultural critiques. . . . Waksman, often quite brilliantly, fuses the fan and the critic into a rich voice for music criticism. . . . Considerably raises the bar for engaged exploration of music subcultures."
— Baltimore City Paper
"A wonderful mixture of fact, observation, interpretation, and humor."
— Scott G - The G-Man
"The author is to be commended for shedding welcome light on a seldom illuminated dialogue and recognising the ongoing variegation of rock 'n' roll as a process contingent on the external pressures brought to bear on it."
— The Wire
"Waksman's superb book provides a model for other scholars to follow."
— Journal Of Popular Music Stds
"Waksman's work is engaging, thought-provoking, and an important contribution particularly for metal studies."
— Glenn Pillsbury
"This work is an exemplar nuance, one that does justice to the complexities of the culture it addresses."
— Robert Walser
"A comprehensively and enthusiastically researched book."
— Alan Ashton-Smith
"Illuminating and entertaining. . . . Waksman offers an essential revisionist study that helps to redefine popular conceptions of [heavy metal and punk]."
— Greg Renoff