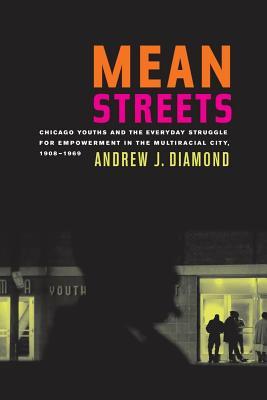 Mean Streets
Chicago Youths and the Everyday Struggle for Empowerment in the Multiracial City, 1908-1969 (American Crossroads #27)
Paperback

* Individual store prices may vary.
Description
Mean Streets focuses on the streets, parks, schools, and commercial venues of Chicago from the era of the 1919 race riot to the civil rights battles of the 1960s to cast a new light on street gangs and to place youths at the center of the twentieth-century American experience. Andrew J. Diamond breaks new ground by showing that teens and young adults stood at the vanguard of grassroots mobilizations in working-class Chicago, playing key roles in the formation of racial identities as they defended neighborhood boundaries. Drawing from a wide range of sources to capture the experiences of young Mexicans, Puerto Ricans, African Americans, Italians, Poles, and others in the multiracial city, Diamond argues that Chicago youths gained a sense of themselves in opposition to others.
Praise For Mean Streets: Chicago Youths and the Everyday Struggle for Empowerment in the Multiracial City, 1908-1969 (American Crossroads #27)…
"Diamond contends that young Euro-American men forged their masculine and racial identities . . . around their encounters with the colour line."
— Urban History
"In Mean Streets Andrew J. Diamond offers a fascinating, meticulous, and entertaining account of the relationship between youths, street culture, race, and racial violence in twentieth-century Chicago."
— Journal Of American History
"Mean Streetsis a deeply researched account of how youth gangs shaped neighborhood boundaries in Chicago."
— American Quarterly
"Diamond's engaging writing allows him to weave a rich tapestry about life in this multiracial city."
— Journal Of African American History
"Sugrue, Hirsch, Robert Self, and now Diamond...offer sophisticated understandngs of the origins of 'a new configuration of inequality with rearranged features'."
— Journal Of Urban History
"A book that will prove central to understanding Chicago, urban culture, and the role that youth gangs have played in their development."
— H-Net Reviews
"A fascinating, meticulous, and entertaining account. . . . An important, engaging book."
— Moira Hinderer
"Diamond's book makes considerable contributions to multiple fields of scholarship."
— Christopher E. Manning
University of California Press, 9780520257474, 416pp.
Publication Date: June 10, 2009
About the Author
Andrew J. Diamond is Associate Professor of American History and Civilization at the Université Charles de Gaulle - Lille 3 in France.