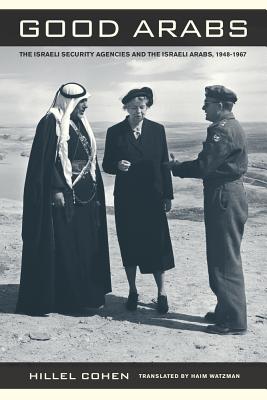 Good Arabs (Hardcover)
The Israeli Security Agencies and the Israeli Arabs, 1948–1967
University of California Press, 9780520257672, 296pp.
Publication Date: January 6, 2010
* Individual store prices may vary.
Description
Based on his reading of top-secret files of the Israeli police and the prime minister's office, Hillel Cohen exposes the full extent of the crucial, and, until now, willfully hidden history of Palestinian collaboration with Israelis—and of the Arab resistance to it. Cohen's previous book, the highly acclaimed Army of Shadows,told how this hidden history played out from 1917 to 1948, and now, in Good Arabs he focuses on the system of collaborators established by Israel in each and every Arab community after the 1948 war. Covering a broad spectrum of attitudes and behaviors, Cohen brings together the stories of activists, mukhtars, collaborators, teachers, and sheikhs, telling how Israeli security agencies penetrated Arab communities, how they obtained collaboration, how national activists fought them, and how deeply this activity influenced daily life. When this book was first published in Hebrew, it became a bestseller and has evoked bitter memories and intense discussions among Palestinians in Israel and prompted the reclassification of many of the hundreds of documents Cohen viewed to uncover a story that continues to unfold to this day.
About the Author
Hillel Cohen is Research Fellow at the Harry S. Truman Institute for the Advancement of Peace at the Hebrew University of Jerusalem. He is the author of Army of Shadows: Palestinian Collaborators with Zionism 1917-1948 (UC Press), The Present Absentees: Palestinian Refugees in Israel since 1948, and The Marketplace is Empty: The Rise and Fall of Arab Jerusalem 1967-2007.
Praise For Good Arabs: The Israeli Security Agencies and the Israeli Arabs, 1948–1967…
"Paints a remarkably balanced and comprehensive picture. It is a fascinating tale, but his account . . . does not make for pleasant reading."
— Jerusalem Post
"The book's power derives from its resonance for the present day, and the way that it illuminates the attitude that Israel has taken – and still takes – toward the Palestinians."
— The National
"A fascinating study . . . with revelations about the past that help explain later developments between the State and Israeli Arabs."
— Jewish Book World
"Excellent book. . . . Good Arabs achieves an unusual poignancy."
— The Jerusalem Report
"Readers will be engaged and informed by his skillful narrative and analysis of a much-contended topic."
— Shalom Goldman
"This is a very important study, scholarly yet accessible to all levels of readers."
— Assoc Of Jewish Libraries Nwsltr
"This book sensitively and convincingly illuminates the complexity of life as an 'Israeli Arab'.
— Ilana Feldman
"This book was, understandably, a best-seller in Israel."
— Magill's Literary Annual / Salem Press
"Highly recommended."
— Choice