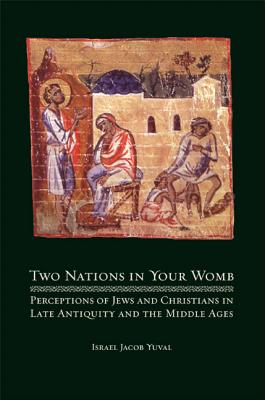 Two Nations in Your Womb
Perceptions of Jews and Christians in Late Antiquity and the Middle Ages
Paperback

* Individual store prices may vary.
Description
Since it was first published in Hebrew in 2000, this provocative book has been garnering acclaim and stirring controversy for its bold reinterpretation of the relationship between Judaism and Christianity in the Middle Ages, especially in medieval Europe. Looking at a remarkably wide array of source material, Israel Jacob Yuval argues that the inter-religious polemic between Judaism and Christianity served as a substantial component in the mutual formation of each of the two religions. He investigates ancient Jewish Passover rituals; Jewish martyrs in the Rhineland who in 1096 killed their own children; Christian perceptions of those ritual killings; and events of the year 1240, when Jews in northern France and Germany expected the Messiah to arrive. Looking below the surface of these key moments, Yuval finds that, among other things, the impact of Christianity on Talmudic and medieval Judaism was much stronger than previously assumed and that a "rejection of Christianity" became a focal point of early Jewish identity. Two Nations in Your Womb will reshape our understanding of Jewish and Christian life in late antiquity and over the centuries.
University of California Press, 9780520258181, 338pp.
Publication Date: August 19, 2008
About the Author
Israel Jacob Yuval is a professor for Jewish History and the Academic Head of "Scholion-Interdisciplinary Research Center in Jewish Studies" at The Hebrew University of Jerusalem. He is author of Scholars in Their Time: The Religious Leadership of German Jewry in the Late Middle Ages (1988).