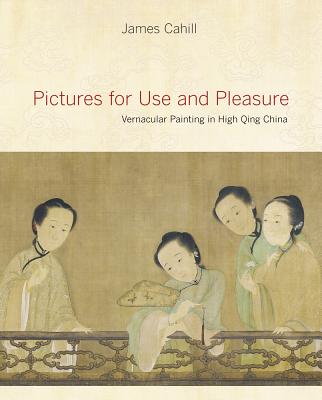 Pictures for Use and Pleasure (Hardcover)
Vernacular Painting in High Qing China
University of California Press, 9780520258570, 280pp.
Publication Date: September 1, 2010
* Individual store prices may vary.
Description
In this groundbreaking book, James Cahill expands the field of Chinese pictorial art history, opening both scholarly studies and popular appreciation to vernacular paintings, "pictures for use and pleasure." These were works commissioned and appreciated during the seventeenth and eighteenth centuries by the non-elites of Chinese society, including women. Traditional Chinese collectors, like present-day scholars of Chinese painting, have favored the "literati" paintings of the Chinese male elite, disparaging vernacular works, often intended as decorations or produced to mark a special occasion. Cahill challenges the dominant dogma and doctrine of the literati, showing how the vernacular images, both beautiful and appealing, strengthen our understanding of High Qing culture. They bring to light the Qing or Manchu emperors' fascination with erotic culture in the thriving cities of the Yangtze Delta and demonstrate the growth of figure painting in and around Beijing's imperial court. They also revise our understanding of gender roles and show how Chinese artists made use of European styles. By introducing a large, rich body of works, Pictures for Use and Pleasure opens new windows on later Chinese life and society.
About the Author
James Cahill is Professor Emeritus of Chinese Art at the University of California, Berkeley. A recipient of the College Art Association's Lifetime Achievement Award for Writing on Art and the Charles Lang Freer Medal, an award established by the Smithsonian Institution to honor distinguished career contributions in the history of Asian and Near Eastern Art, he is the author of many books including The Lyric Journey: Poetic Painting in China and Japan and The Painter's Practice: How Artists Lived and Worked in Traditional China.
Praise For Pictures for Use and Pleasure: Vernacular Painting in High Qing China…
"A thought-provoking book for serious readers wanting a deep immersion in Chinese art history, social culture, and gender studies."
— Library Journal
"Lavishly illustrated, this is an absolutely crucial book for all students, scholars, and connoisseurs of Chinese painting."
— Choice
"A breakthrough in . . . the study of Chinese visual arts and material culture."
— Oxford Art Journal
"Will undoubtedly serve as a starting point for all future studies of the subject."
— China Review International
"An important book. . . . Cahill draws attention to a category of paintings that have hitherto been little studied."
— Marion S. Lee, Associate Professor, School of Art, Ohio University
or
Not Currently Available for Direct Purchase