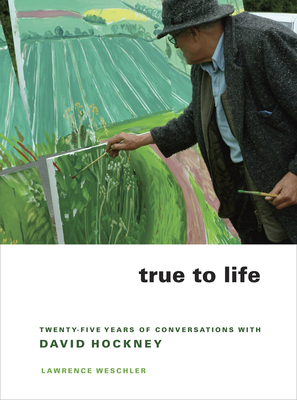 True to Life (Paperback)
Twenty-Five Years of Conversations with David Hockney
University of California Press, 9780520258792, 272pp.
Publication Date: January 26, 2009
Other Editions of This Title:
Hardcover (1/1/2009)
* Individual store prices may vary.
Description
Soon after the book's publication in 1982, artist David Hockney read Lawrence Weschler's Seeing Is Forgetting the Name of the Thing One Sees: A Life of Contemporary Artist Robert Irwin and invited Weschler to his studio to discuss it, initiating a series of engrossing dialogues, gathered here for the first time. Weschler chronicles Hockney's protean production and speculations, including his scenic designs for opera, his homemade xerographic prints, his exploration of physics in relation to Chinese landscape painting, his investigations into optical devices, his taking up of watercolor—and then his spectacular return to oil painting, around 2005, with a series of landscapes of the East Yorkshire countryside of his youth. These conversations provide an astonishing record of what has been Hockney's grand endeavor, nothing less than an exploration of "the structure of seeing" itself.
About the Author
Lawrence Weschler, a staff writer for twenty years at the New Yorker, is the Director of the New York Institute of the Humanities at New York University and Artistic Director of the Chicago Humanities Festival.
Praise For True to Life: Twenty-Five Years of Conversations with David Hockney…
"Aside from being a terrific writer, Weschler is clearly a great listener and interviewer."
— Robert L. Pincus
"Weschler rewards his readers with lengthy quotes, an overwhelming wealth of knowledge and a lively narrative style." (Starred Review)
— Publishers Weekly
"'Seeing Is Forgetting' and 'True to Life' are not only about the artists talking to Weschler or, through him, to each other; they're about the artists talking to themselves."
— David Ulin
"'Seeing Is Forgetting' and 'True to Life' are not only about the artists talking to Weschler or, through him, to each other; they're about the artists talking to themselves."
— David Ulin