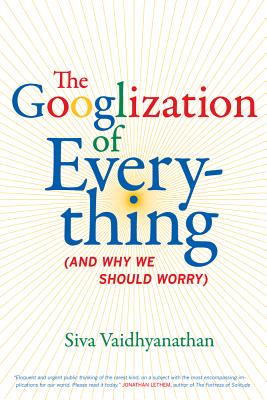 The Googlization of Everything
(And Why We Should Worry)
Hardcover

* Individual store prices may vary.
Other Editions of This Title:
Paperback (3/13/2012)
Description
In the beginning, the World Wide Web was exciting and open to the point of anarchy, a vast and intimidating repository of unindexed confusion. Into this creative chaos came Google with its dazzling mission—"To organize the world's information and make it universally accessible"—and its much-quoted motto, "Don't be evil." In this provocative book, Siva Vaidhyanathan examines the ways we have used and embraced Google—and the growing resistance to its expansion across the globe. He exposes the dark side of our Google fantasies, raising red flags about issues of intellectual property and the much-touted Google Book Search. He assesses Google's global impact, particularly in China, and explains the insidious effect of Googlization on the way we think. Finally, Vaidhyanathan proposes the construction of an Internet ecosystem designed to benefit the whole world and keep one brilliant and powerful company from falling into the "evil" it pledged to avoid.
Praise For The Googlization of Everything: (And Why We Should Worry)…
"An important book. While a number of excellent histories about the emergence of Google have been published . . . few writers have tried to take a comprehensive and critical look at the wider impact on society of Google's vast ambition 'to organize the world's information and make it universally accessible and useful.'. . . Vaidhyanathan's perspective as an East Coast academic outside the group-think of Silicon Valley is a valuable one. He is a clear writer with an engaging voice, and a good guide for this peek behind the wizard's curtain."
— San Jose Mercury News
"This book is in no way an attack on Google but more like a parent asking a child, 'What do you want to do with your life?' then going through all the concerns one by one. Strongly recommended."
— Library Journal
"Siva Vaidhyanathan . . . thinks we've become far too dependent on an arrogant, barely regulated company that gathers and stored tons of personal information about us."
— Nick Eaton
"A stimulating and controversial book."
— Times Higher Education
University of California Press, 9780520258822, 280pp.
Publication Date: March 8, 2011
About the Author
Siva Vaidhyanathan, Professor of Media Studies and Law at the University of Virginia, is the author of Copyrights and Copywrongs: The Rise of Intellectual Property and How It Threatens Creativity and The Anarchist in the Library: How the Clash between Freedom and Control Is Hacking the Real World and Crashing the System.
or
Not Currently Available for Direct Purchase