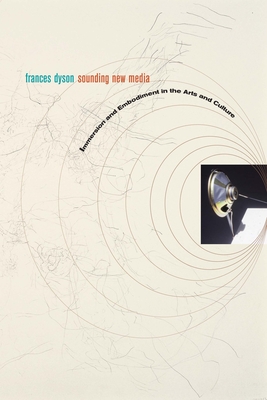 Sounding New Media
Immersion and Embodiment in the Arts and Culture
Paperback

* Individual store prices may vary.
Other Editions of This Title:
Hardcover (9/1/2009)
Description
Sounding New Media examines the long-neglected role of sound and audio in the development of new media theory and practice, including new technologies and performance art events, with particular emphasis on sound, embodiment, art, and technological interactions. Frances Dyson takes an historical approach, focusing on technologies that became available in the mid-twentieth century-electronics, imaging, and digital and computer processing-and analyzing the work of such artists as John Cage, Edgard Varèse, Antonin Artaud, and Char Davies. She utilizes sound's intangibility to study ideas about embodiment (or its lack) in art and technology as well as fears about technology and the so-called "post-human." Dyson argues that the concept of "immersion" has become a path leading away from aesthetic questions about meaning and toward questions about embodiment and the physical. The result is an insightful journey through the new technologies derived from electronics, imaging, and digital and computer processing, toward the creation of an aesthetic and philosophical framework for considering the least material element of an artwork, sound.
Praise For Sounding New Media: Immersion and Embodiment in the Arts and Culture…
"Dyson seamlessly integrates theoretical perspectives with the history of technological developments in this thought-provoking work for scholars and practitioners."
— Choice

"An informative book on the still developing role between new media, consumer, and creator."
— Heather Pinson

"Sophisticated and . . . ambitious. . . . Dyson's skillful, erudite excavations of rhetorical and conceptual structures bring many benefits."
— Filter Magazine

"A stimulating read. . . . Dyson engages with an impressive range of perspectives. She contributes valuably to contemporary music scholarship.
— Nina Sun Eidsheim, Mandy-Suzanne Wong
University of California Press, 9780520258990, 262pp.
Publication Date: September 4, 2009
About the Author
Frances Dyson is Associate Professor of Technocultural Studies at the University of California, Davis.