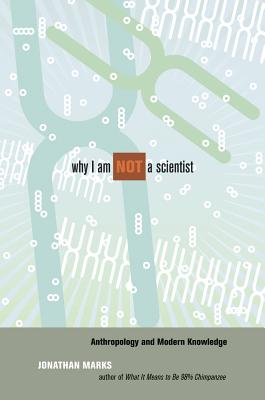 Why I Am Not a Scientist
Anthropology and Modern Knowledge
Paperback

* Individual store prices may vary.
Description
This lively and provocative book casts an anthropological eye on the field of science in a wide-ranging and innovative discussion that integrates philosophy, history, sociology, and auto-ethnography. Jonathan Marks examines biological anthropology, the history of the life sciences, and the literature of science studies while upending common understandings of science and culture with a mixture of anthropology, common sense, and disarming humor. Science, Marks argues, is widely accepted to be three things: a method of understanding and a means of establishing facts about the universe, the facts themselves, and a voice of authority or a locus of cultural power. This triple identity creates conflicting roles and tensions within the field of science and leads to its record of instructive successes and failures. Among the topics Marks addresses are the scientific revolution, science as thought and performance, creationism, scientific fraud, and modern scientific racism. Applying his considerable insight, energy, and wit, Marks sheds new light on the evolution of science, its role in modern culture, and its challenges for the twenty-first century.
Praise For Why I Am Not a Scientist: Anthropology and Modern Knowledge…
"Lively and forcefully written book."
— Journal of the Royal Anthropological Institute

"It serves as a survey of major trends in biological anthropology and the anthropology of science, and is presented in an informal, often humorous fashion. . . . Why I am Not a Scientist is a useful intervention and corrective. . ."
— Somatosphere

"This book is well written, interesting, and establishes the broad context of knowledge."
— Quarterly Review of Biology
University of California Press, 9780520259607, 344pp.
Publication Date: June 23, 2009
About the Author
Jonathan Marks is Professor of Anthropology at University of North Carolina at Charlotte and the author of What It Means to Be 98% Chimpanzee: Apes, People, and their Genes.