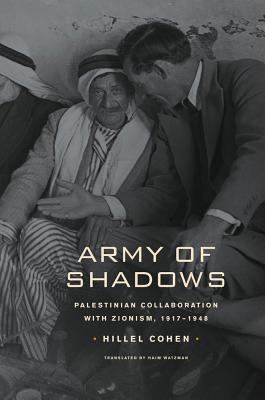 Army of Shadows (Paperback)
Palestinian Collaboration with Zionism, 1917–1948
University of California Press, 9780520259898, 352pp.
Publication Date: January 3, 2008
* Individual store prices may vary.
Description
Inspired by stories he heard in the West Bank as a child, Hillel Cohen uncovers a hidden history in this extraordinary and beautifully written book—a history central to the narrative of the Israel-Palestine conflict but for the most part willfully ignored until now. In Army of Shadows, initially published in Israel to high acclaim and intense controversy, he tells the story of Arabs who, from the very beginning of the Arab-Israeli encounter, sided with the Zionists and aided them politically, economically, and in security matters. Based on newly declassified documents and research in Zionist, Arab, and British sources, Army of Shadows follows Bedouins who hosted Jewish neighbors, weapons dealers, pro-Zionist propagandists, and informers and local leaders who cooperated with the Zionists, and others to reveal an alternate history of the mandate period with repercussions extending to this day. The book illuminates the Palestinian nationalist movement, which branded these "collaborators" as traitors and persecuted them; the Zionist movement, which used them to undermine Palestinian society from within and betrayed them; and the collaborators themselves, who held an alternate view of Palestinian nationalism. Army of Shadows offers a crucial new view of history from below and raises profound questions about the roots of the Israel-Palestine conflict.
About the Author
Hillel Cohen is Research Fellow at the Truman Institute for the Advancement of Peace at the Hebrew University of Jerusalem. He is the author of The Present Absentee: Palestinian Refugees in Israel since 1948 and Good Arabs: The Israeli Security Services and the Israeli Arabs.
Praise For Army of Shadows: Palestinian Collaboration with Zionism, 1917–1948…
"[An] important book. . . . The picture presented is thorough and fair and persuasive."
— Benny Morris
"Groundbreaking. . . . Riveting. . . . Eloquent."
— The Nation
"An important academic work that is accessible to general readers."
— Jerusalem Post
"Written in . . . honorable revisionist spirit."
— Books & Culture: A Christian Rvw
"An important academic work that is accessible to general readers."
— Spero News