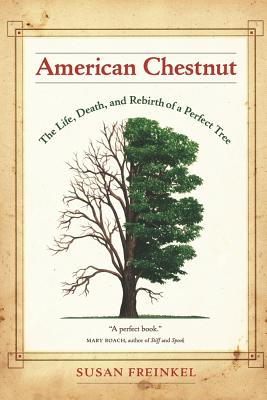 American Chestnut
The Life, Death, and Rebirth of a Perfect Tree
Paperback

* Individual store prices may vary.
Other Editions of This Title:
Hardcover (11/1/2007)
Description
The American chestnut was one of America's most common, valued, and beloved trees—a "perfect tree" that ruled the forests from Georgia to Maine. But in the early twentieth century, an exotic plague swept through the chestnut forests with the force of a wildfire. Within forty years, the blight had killed close to four billion trees and left the species teetering on the brink of extinction. It was one of the worst ecological blows to North America since the Ice Age—and one most experts considered beyond repair. In American Chestnut, Susan Freinkel tells the dramatic story of the stubborn optimists who refused to let this cultural icon go. In a compelling weave of history, science, and personal observation, she relates their quest to save the tree through methods that ranged from classical plant breeding to cutting-edge gene technology. But the heart of her story is the cast of unconventional characters who have fought for the tree for a century, undeterred by setbacks or skeptics, and fueled by their dreams of restored forests and their powerful affinity for a fellow species.
Praise For American Chestnut: The Life, Death, and Rebirth of a Perfect Tree…
"An absorbing account of not only the decline of this Herculean tree, but of those who are trying to develop disease-resistant varieties."
— New York Times

"American Chestnut is a parable for our time: a sad and salutary tale, beautifully written by US science journalist Susan Freinkel."
— Nature

"A fascinating roundup of the characters and passions behind a century-old effort to rescue a tree that is both emblematic in American culture and deeply problematic to its erstwhile saviors."
— Orion

"Time after time, this impassioned book strikes resonant emotional chords that transform dry facts into dynamic prose."
— Publishers Weekly

"An absorbing account of not only the decline of this Herculean tree, but of those who are trying to develop disease-resistant varieties."
— San Diego Union-Tribune

"A tale of the functional extinction of what was once one of the most economically valuable and ecologically important trees."
— American Scientist

"Freinkel chronicles the history of the tree, the people who drew their livelihood from its high quality wood, and the conservationists who are working with a near-obsessive passion to revitalize the chestnut population."
— Science News

"Reads smoothly, like a well-written novel. . . . A thoroughly absorbing book."
— Library Journal

"Delivers a spellbinding microhistory teeming with tales of conviction, ambition, frustration, and just plain luck. With poetic sensibility and crystalline objectivity, Freinkel artfully explains the effect of this historic annihilation and cogently explores the practical and philosophical challenges that lie ahead."
— Booklist

"A moving portrait. . . . Freinkel's fine reportage sparkles."
— Natural History

"Not about the goods produced from the great trees but about the way humans have tried to intervene in a natural process that has taken a material from their midst."
— Winterthur Portfolio: Journal of American Material Culture

"Engrossing and compelling. . . . The last word of this very good book is 'hope.'"
— American Studies Journal

"(Freinkel) makes a fine narrator. . . . You'll find yourself rooting for a cure."
— Utne Reader

"Highly recommend it to anyone who cares about nature and perhaps this should be a required reading for all biology/ecology/environmental science students."
— Wildlife Activist

"Describes those who witnessed the American chestnut's demise, such as seeing hillsides of "gray ghosts" - skeletal remains of still-standing trees. People also reported hearing the sickening "thuds," audible from the front porch, as yet another giant would topple to the ground. . . . If this tale has whetted your appetite for learning more about chestnuts, [it] will not disappoint!"
— Picayune Item
University of California Press, 9780520259942, 304pp.
Publication Date: April 1, 2009
About the Author
Susan Freinkel is a freelance science journalist whose feature writing has appeared in Discover, Health, Smithsonian, and the Reader's Digest, among many national magazines.