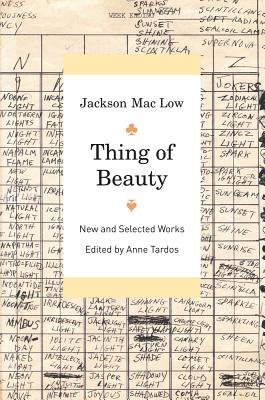 Thing of Beauty
New and Selected Works
Paperback

* Individual store prices may vary.
Description
This landmark collection brings together poetry, performance pieces, "traditional" verse, prose poems, and other poetical texts from Jackson Mac Low's lifetime in art. The works span the years from 1937, beginning with "Thing of Beauty," his first poem, until his death in 2004 and demonstrate his extraordinary range as well as his unquenchable enthusiasm. Mac Low is widely acknowledged as one of the major figures in twentieth-century American poetry, with much of his work ranging into the spheres of music, dance, theater, performance, and the visual arts. Comparable in stature to such giants as Robert Creeley, John Ashbery, and Allen Ginsberg, Mac Low is often associated with composer John Cage, with whom he shared a delight in work derived from "chance operations." This volume, edited by Anne Tardos, his wife and frequent collaborator, offers a balanced arrangement of early, middle, and late work, designed to convey not just the range but also the progressions and continuities of his writings and "writingways."
University of California Press, 9780520260023, 502pp.
Publication Date: May 1, 2009
About the Author
Jackson Mac Low (1922–2004) was a poet, composer, painter, and multimedia performance artist. He is the author of more than twenty-five books including Doings (2005), Pieces o' Six (1993), and Twenties (1992). Anne Tardos is a poet, performer, visual artist, and composer. She is the author of many books including The Dik-dik's Solitude: New and Selected Works (2003), Uxudo (1999), and Mayg-shem Fish (1995).