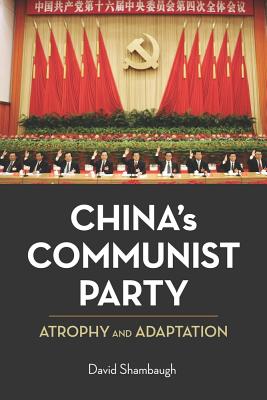 China's Communist Party (Paperback)
Atrophy and Adaptation
University of California Press, 9780520260078, 256pp.
Publication Date: April 2, 2008
* Individual store prices may vary.
Description
Few issues affect the future of China—and hence all the nations that interact with China—more than the nature of its ruling party and government. In this timely study, David Shambaugh assesses the strengths and weaknesses, durability, adaptability, and potential longevity of China's Communist Party (CCP). He argues that although the CCP has been in a protracted state of atrophy, it has undertaken a number of adaptive measures aimed at reinventing itself and strengthening its rule. Shambaugh's investigation draws on a unique set of inner-Party documents and interviews, and he finds that China's Communist Party is resilient and will continue to retain its grip on power.

Copub: Woodrow Wilson Center Press
About the Author
David Shambaugh is Professor of Political Science and International Affairs and Director of the China Policy Program at the Elliott School of International Affairs, George Washington University. He is also a Non-Resident Senior Fellow in Foreign Policy Studies at the Brookings Institution. He has written and edited many books, including Modernizing China's Military: Progress, Problems, and Prospects (UC Press, 2004) and Power Shift: China and Asia's New Dynamics (UC Press, 2005).
Praise For China's Communist Party: Atrophy and Adaptation…
"Provides one of the best accounts yet of the post-1989 reinvention of the Chinese Communist Party."
— Huffington Post
"Sobering but illuminating. . . . Exciting to read."
— New York Review Of Books
"Fascinating study."
— Anthony Saich
"A valuable addition to the debate on the Chinese Communist Party (CCP) and the prospect of political change and societal stability in China. . . . A page turner, well researched and informative."
— Journal Of Asian Stds