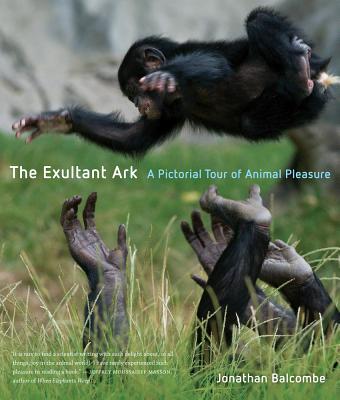 The Exultant Ark (Hardcover)
A Pictorial Tour of Animal Pleasure
University of California Press, 9780520260245, 224pp.
Publication Date: May 9, 2011
* Individual store prices may vary.
Description
Nature documentaries often depict animal life as a grim struggle for survival, but this visually stunning book opens our eyes to a different, more scientifically up-to-date way of looking at the animal kingdom. In more than one hundred thirty striking images, The Exultant Ark celebrates the full range of animal experience with dramatic portraits of animal pleasure ranging from the charismatic and familiar to the obscure and bizarre. These photographs, windows onto the inner lives of pleasure seekers, show two polar bears engaged in a bout of wrestling, hoary marmots taking time for a friendly chase, Japanese macaques enjoying a soak in a hot spring, a young bull elk sticking out his tongue to catch snowflakes, and many other rewarding moments. Biologist and best-selling author Jonathan Balcombe is our guide, interpreting the images within the scientific context of what is known about animal behavior. In the end, old attitudes fall away as we gain a heightened sense of animal individuality and of the pleasures that make life worth living for all sentient beings.
About the Author
Jonathan Balcombe is Department Chair for Animal Studies with Humane Society University. His books include Second Nature: The Inner Lives of Animals and Pleasurable Kingdom: Animals and the Nature of Feeling Good. Dr. Balcombe is also a popular environmental conference and keynote speaker.
Praise For The Exultant Ark: A Pictorial Tour of Animal Pleasure…
"An exuberant look at animal pleasure."
— Katherine Bouton
"An irresistible new photo book."
— Maureen Callahan
"Intersperses glorious images of animals preening, grooming and gallivanting with snippets of studies suggesting such behaviours belie an overly utilitarian interpretation."
— Tiffany O'Callaghan
"Here is a book to put a spring into anyone's step. The Exultant Ark is a celebration of animal behaviour at its most uplifting."
— Stuart Blackman
"All readers of this column must immediately purchase Jonathan Balcombe's fabulous book."
— Leigh Dayton
"Both the stunning photography and Balcombe's masterful prose are welcome additions to the growing literary and scientific evidence that debunk long-assumed myths while continuing to eliminate the gap between 'us' and 'them.'"
— Veg News Mag
"One of those rare volumes that will look good on your coffee table but might also change the way you think."
— Harold Herzog
"The studies he [Balcombe] invokes are hard to explain away. . . . Likewise, the photographs that make up the bulk of The Exultant Ark remind us that we are not as different from other animals on our planet as we like to think; the photos are anecdotal in nature, but they are utterly compelling."
— Scott F. Parker
"This is one of those rare volumes that will look good on your coffee table but might also change the way you think."
— Hal Herzog
"This visually stunning book opens our eyes to a different, more scientifically up-to-date way of looking at the animal kingdom. . . . Old attitudes fall away as we gain a heightened sense of animal individuality and of the pleasures that make life worth living for all sentient beings."
— Ian Paulsen