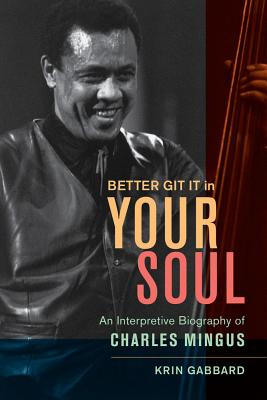 Better Git It in Your Soul
An Interpretive Biography of Charles Mingus
Hardcover

* Individual store prices may vary.
Description
Charles Mingus is one of the most important—and most mythologized—composers and performers in jazz history. Classically trained and of mixed race, he was an outspoken innovator as well as a bandleader, composer, producer, and record-label owner. His vivid autobiography, Beneath the Underdog, has done much to shape the image of Mingus as something of a wild man: idiosyncratic musical genius with a penchant for skirt-chasing and violent outbursts. But, as the autobiography reveals, he was also a hopeless romantic. After exploring the most important events in Mingus's life, Krin Gabbard takes a careful look at Mingus as a writer as well as a composer and musician. He digs into how and why Mingus chose to do so much self-analysis, how he worked to craft his racial identity in a world that saw him simply as "black," and how his mental and physical health problems shaped his career. Gabbard sets aside the myth-making and convincingly argues that Charles Mingus created a unique language of emotions—and not just in music. Capturing many essential moments in jazz history anew, Better Git It in Your Soul will fascinate anyone who cares about jazz, African American history, and the artist's life.
Praise For Better Git It in Your Soul: An Interpretive Biography of Charles Mingus…
"Will likely long stand as the definitive account of the genius, and enigma, that was this great bassist, bandleader, and composer. Certainly no one has heretofore delved as deeply and thoroughly into what made him tick."
— W. Royal Stokes Blog

"'Better Git It In Your Soul draws the reader to listening to its subject's productions. If already familiar with Mingus' music, a reader may return to favorites with fresh ears and deeper insights. . . . Gabbard's greatest personal contribution to understanding Mingus is his contextualization of events through his own broad, well-informed perspective."
— DownBeat

"Offers several lenses through which to view Mingus and his music—the milieu in which he lived, wrote and played; literary life; closest musical associations; and as a coda his experience in film. . . . There is much in Better Git It In Your Soul to limn one's understanding of and approach to Mingus' tremendous body of work as well as the challenges he faced and orchestrated as a black artist in America."
— The New York City Jazz Record

"This is a wonderful book! This book completely absorbed me. . . . You really took me in with your own emotional palette."

 
— NPR/On Point with Tom Ashbrook

"An important contribution to not only the study of Charles Mingus but also of the evolution of postwar jazz."—STARRED REVIEW
— Library Journal

"A solid addition to the literature of jazz."
— Booklist

"This isn't simply a new telling of Mingus' life story, although Gabbard does an excellent job of that in just under 100 concise and nicely paced pages. Gabbard also takes a deep dive into specific aspects of Mingus' output. Most notably, he performs forensic work in exploring how Beneath the Underdog came to be."
— PopMatters

"Gabbard examines the musical career of one of the giants of Jazz, Charles Mingus, offering a look at the man beyond his sensationalized musical career and personal mythology."
— Publishers Weekly

"Krin Gabbard uses his own unique perspective to illustrate the famous musician's life and genius."
— Darcy Peters

"14 of the Best Gifts for a Music Snob Who's Heard Everything: Krin Gabbard's bio is as idiosyncratic as the great jazz bassist and composer that is its subject. There aren't many places you can go to read comparisons between Mingus and Philip Roth as well as detailed musical analysis of his epochal and hard-swinging compositions."

— New York Magazine, The Strategist

"Gabbard's careful attention to new and underutilized resources and dedication to placing the many dimensions of Mingus's existence in their larger contexts should indeed enhance readers' appreciation of Mingus as a musician, composer, arranger, writer, poet, and bandleader."
— Notes

"Gabbard . . . addresses Mingus's music and legacy in comprehensive fashion and is full of impassioned and well-reasoned arguments."
— Jazz and Culture
University of California Press, 9780520260375, 336pp.
Publication Date: February 8, 2016
About the Author
Krin Gabbard retired after thirty-three years of teaching at Stony Brook University, and he now teaches in the jazz studies program at Columbia University. His previous books include Hotter than That: The Trumpet, Jazz, and American Culture and Jammin' at the Margins: Jazz and the American Cinema. He lives in New York City with his wife, Paula, and he is busy playing his trumpet and writing a memoir about his parents.