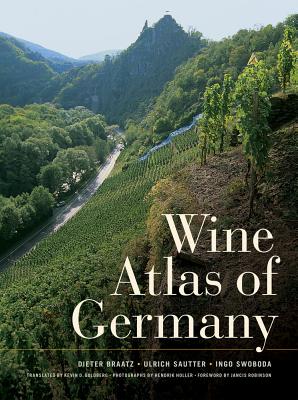 Wine Atlas of Germany (Hardcover)
University of California Press, 9780520260672, 280pp.
Publication Date: August 4, 2014
* Individual store prices may vary.
Description

Featuring sixty-seven exceptional color maps as well as eighty-seven vivid images by photographer Hendrik Holler and others, this is the most comprehensive and up-to-date atlas of German wine—a detailed reference to vineyards and appellations. The authors explain the geography of all the German wine-growing regions and provide independent analysis and ranking of the most significant vineyards in each region. In addressing the growing American appreciation of German wines, the atlas pays in-depth attention to Rieslings from the Mosel and other premier regions while also acquainting readers with wines from less familiar areas such as the Ahr, Baden, the Taubertal, and Franconia. Beautifully produced, with helpful sidebars and succinct essays, this book will become the standard reference on the subject.
About the Author

Dieter Braatz is Deputy Editor-in-Chief of the German magazine Der Feinschmecker and author of a guide to Germany's best wine estates. Ulrich Sautter is the author of Wein A-Z. Ingo Swoboda writes for Der Feinschmecker and is the coauthor of Riesling. Kevin D. Goldberg (translator) is an Instructor of History at Kennesaw State University and the author of a forthcoming book on the history of the German wine trade.
Praise For Wine Atlas of Germany…
"This serious, detailed examination of one of the world's greatest wine countries. . . is an impressive reference resource."
— Decanter
"For the diligent student or even the mildly curious, it's a great way to learn about the complexities of German viticulture and law as well as the names of all the great vineyards. The book also lists producers the authors deem good, superior or exceptional—so even German-wine neophytes can locate those names on bottle labels."
-Lettie Teague's Six Favorite New Wine Books
— Wall Street Journal
"Casual readers will enjoy the maps, the photos by Hendrik Holler and overviews while the serious student will find her reward in the details. . . . Highly recommended."
— The Wine Economist
"A prodigious effort and an excellent reference book that every connoisseur of German wine should have at their ready."
— International Wine Review
"Stunning. . . . Will delight avid Rieseling drinkers with its comprehensive study of one of the workd's leading wine-producing countries. . . . Spans 400 pages and omits nothing."
— SOMM Journal Review
"This herculean reference is required reading for anyone who loves German wine."
— Wine Spectator
"This book is simply the next best thing to exploring the wine regions of Germany in person. . . . An outstanding reference on the subject of German wines."
— Laura Herrell
"What a welcome and valuable resource for lovers of German wine...This atlas finally gives the world a one-stop resource for Germany"
— World of Fine Wine