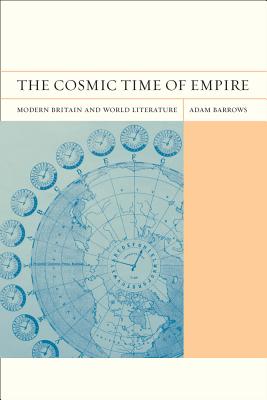 The Cosmic Time of Empire
Modern Britain and World Literature (FlashPoints #3)
Paperback

* Individual store prices may vary.
Description
Combining original historical research with literary analysis, Adam Barrows takes a provocative look at the creation of world standard time in 1884 and rethinks the significance of this remarkable moment in modernism for both the processes of imperialism and for modern literature. As representatives from twenty-four nations argued over adopting the Prime Meridian, and thereby measuring time in relation to Greenwich, England, writers began experimenting with new ways of representing human temporality. Barrows finds this experimentation in works as varied as Victorian adventure novels, high modernist texts, and South Asian novels—including the work of James Joyce, Virginia Woolf, H. Rider Haggard, Bram Stoker, Rudyard Kipling, and Joseph Conrad. Demonstrating the investment of modernist writing in the problems of geopolitics and in the public discourse of time, Barrows argues that it is possible, and productive, to rethink the politics of modernism through the politics of time.
Praise For The Cosmic Time of Empire: Modern Britain and World Literature (FlashPoints #3)…
"A lucid, thought-provoking study, and will be necessary reading for anyone concerned with the treatment of temporality in literature."
— David Sergeant
"[Barrows] is rarely anything less than lucid. . . . The book is thoughtfully realised and impressively researched."
— Beryl Pong
"A major contribution to postcolonial and modernist studies. . . . The Cosmic Time of Empire stands as an ambitious, rewarding discussion."
— Deirdre H. McMahon
University of California Press, 9780520260993, 224pp.
Publication Date: December 7, 2010
About the Author
Adam Barrows is Assistant Professor in the Department of English Language and Literature at Carleton University in Ontario, Canada.