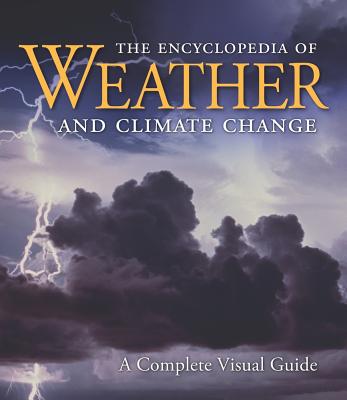 The Encyclopedia of Weather and Climate Change
A Complete Visual Guide
Hardcover

* Individual store prices may vary.
Description
Encyclopedia of Weather features:

• Spectacular color photographs, detailed diagrams, beautiful graphics, and maps

• Easy-to-understand text that is packed with enough detail for scientists yet accessible in classrooms from the junior high school level (and up)

• The most up-to-date information based on the most recent scientific findings

• Succinct explanations of climate change, the enhanced greenhouse effect, global warming, and ozone depletion

• "Fact files" that put information at readers' fingertips

This beautiful, comprehensive, and up-to-date volume covers in amazing depth all aspects of the world's weather. Liberally illustrated with more than 2,000 color photographs, supplemental maps, diagrams, and other images, The Encyclopedia of Weather and Climate Change takes the reader beyond simple definitions to explore where weather comes from and the roles played by oceans and water cycles, and explains such related phenomena as the shaping of landforms, the creation of biological provinces, and the lasting ramifications of climate change. It also discusses how humans have survived and adapted in extreme climates like deserts, jungles, and icy regions. Each of the book's six sections is written and vetted by a different expert. "Engine" discusses what weather is, the solar powerhouse that supplies it, and Earth's atmospheric systems and seasons. "Action" delves into the dynamics of various weather forms. "Extremes" covers blizzards, heat waves, wildfires, and more. "Watching" tracks how weather is measured, mapped, monitored, and forecast. "Climate" delineates the continental climate zones and describes the plant, animal, and human adaptations for each. "Change" considers the history of climate change—ice ages, dinosaur extinction, melting glaciers, human impact, and more—and what we can expect in the future.
Praise For The Encyclopedia of Weather and Climate Change: A Complete Visual Guide…
"The science of weather—from cloud formation to approaches to slowing and reversing climate change—is clearly and succinctly explained in this wide-ranging, well-illustrated volume."
— Scientific American

"Provides enough detail for weather buffs of all ages."
— Science News

"A colorful reference book that makes for a great introduction to the science of meteorology and climate."
— Earth Magazine

"This book belongs in every science classroom, and should be required reading for any citizen who wants to take an informed stance on climate change."
— Fore Word Reviews

"An excellent introduction to the human impact on global ecosystems."
— College & Research (C&Rl News)

"Comprehensive and up-to-date volume covers in amazing depth all aspects of the world's weather."
— The Birdbooker Report

"I would gladly share this book with anybody who is interested in the natural world around us."
— Jane Kinkus Yatcilla

"Magnificently illustrated, authoritative and exceedingly well-organized."
— Longitude
University of California Press, 9780520261013, 512pp.
Publication Date: March 8, 2010
About the Author
Juliane L. Fry is Assistant Professor of Chemistry and Environmental Studies at Reed College. Hans-F Graf is Professor for Environmental Systems Analysis in the Centre for Atmospheric Science at the University of Cambridge. Richard Grotjahn is Professor -in the Department of Land, Air, and Water Resources at the University of California, Davis. Marilyn N. Raphael is Professor in the Department of Geography at the University of California, Los Angeles. Clive Saunders is Senior Lecturer in the School of Earth, Atmospheric, and Environmental Sciences at the University of Manchester. Richard Whitaker is an independent meteorological consultant who appears frequently on the Weather Channel in Australia.