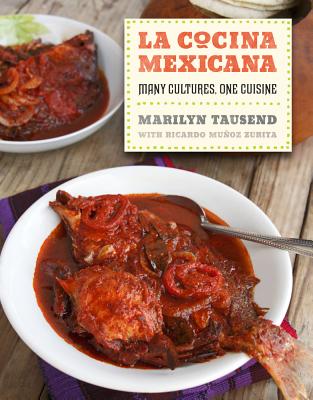 La Cocina Mexicana
Many Cultures, One Cuisine
Hardcover

* Individual store prices may vary.
Description
After thirty years of leading culinary tours throughout Mexico, Marilyn Tausend teams up with Mexican chef and regional cooking authority Ricardo Muñoz Zurita to describe how the cultures of many profoundly different peoples combined to produce the unmistakable flavors of Mexican food. Weaving engrossing personal narrative with a broad selection of recipes, the authors show how the culinary heritage of indigenous groups, Europeans, and Africans coalesced into one of the world's most celebrated cuisines.

Cooks from a variety of cultures share recipes and stories that provide a glimpse into the preparation of both daily and festive foods. In a Maya village in Yucatán, cochinita de pibil is made with the native peccary instead of pig. In Mexico City, a savory chile poblano is wrapped in puff-pastry. On Oaxaca's coast, families of African heritage share their way of cooking the local seafood. The book includes a range of recipes, from the delectably familiar to the intriguingly unusual.


University of California Press, 9780520261112, 336pp.
Publication Date: October 22, 2012
About the Author
Marilyn Tausend is the author of Cocina de la Familia: More than 200 Authentic Recipes from Mexican-American Home Kitchens (winner of the IACP Julia Child Award for the Best American Cookbook of 1998), Mexico the Beautiful, Savoring Mexico, and Mexican. Ricardo Muñoz Zurita is the author of the acclaimed Diccionario Enciclopédico de Gastronomía Mexicana, soon to be published in English, in addition to numerous Mexican cookbooks.