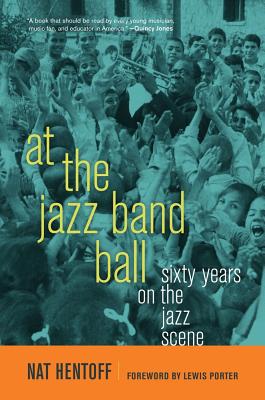 At the Jazz Band Ball (Hardcover)
Sixty Years on the Jazz Scene
University of California Press, 9780520261136, 272pp.
Publication Date: June 1, 2010
Other Editions of This Title:
Paperback (6/1/2010)
* Individual store prices may vary.
Description
Nat Hentoff, renowned jazz critic, civil liberties activist, and fearless contrarian—"I'm a Jewish atheist civil-libertarian pro-lifer"—has lived through much of jazz's history and has known many of jazz's most important figures, often as friend and confidant. Hentoff has been a tireless advocate for the neglected parts of jazz history, including forgotten sidemen and -women. This volume includes his best recent work—short essays, long interviews, and personal recollections. From Duke Ellington and Louis Armstrong to Ornette Coleman and Quincy Jones, Hentoff brings the jazz greats to life and traces their art to gospel, blues, and many other forms of American music. At the Jazz Band Ball also includes Hentoff's keen, cosmopolitan observations on a wide range of issues. The book shows how jazz and education are a vital partnership, how free expression is the essence of liberty, and how social justice issues like health care and strong civil rights and liberties keep all the arts—and all members of society—strong.
About the Author
Nat Hentoff is an internationally known jazz critic and the only critic ever designated a Jazz Master by the NEA. He is a regular columnist for Jazz.com and the Wall Street Journal, the United Media Newspaper Syndicate, and the Cato Institute, where he is a senior fellow. His many books include Jazz Country; Jazz Is; The Jazz Life; Boston Boy: Growing Up with Jazz and Other Rebellious Passions; Living the Bill of Rights; and the forthcoming Is This America?
Praise For At the Jazz Band Ball: Sixty Years on the Jazz Scene…
"Hentoff comes off as the cool uncle who weaves fascinating stories about historical figures. . . . His life is jazz history."
— Downbeat
"A celebration of the music and its practitioners and challenges those who would read jazz the last rights."
— All About Jazz
"Reading Hentoff, who personally befriended many of jazz's most legendary creators and has witnessed personally many of its landmark moments, is akin to listening to war stories from a still-sharp old uncle—except that Hentoff's stories are better."
— Jazz Times
"Much like the musicians he loves and admires and who have given him direction in his life, Nat Hentoff has his own voice. It is warmly personal, authoritative, sometimes curmudgeonly."
— Jja News (Jazz Journalist Assoc)
"Opening doors for listening to and reading about jazz, this book will inform and entertain readers ranging from those who create jazz to neophyte listeners."
— C.M. Weisenberg
"Hentoff is . . . an iconic jazz writer"
— Brian Priestley