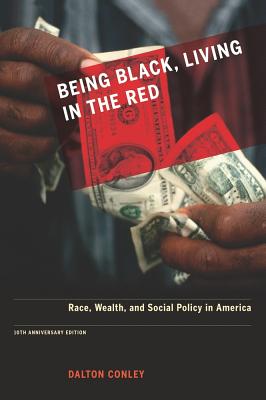 Being Black, Living in the Red
Race, Wealth, and Social Policy in America, 10th Anniversary Edition, With a New Afterword
Paperback

* Individual store prices may vary.
Other Editions of This Title:
Paperback (6/1/1999)
Description
Being Black, Living in the Red demonstrates that many differences between blacks and whites stem not from race but from economic inequalities that have accumulated over the course of American history. Property ownership—as measured by net worth—reflects this legacy of economic oppression. The racial discrepancy in wealth holdings leads to advantages for whites in the form of better schools, more desirable residences, higher wages, and more opportunities to save, invest, and thereby further their economic advantages. A new afterword by the author summarizes Conley's recent research on racial differences in wealth mobility and security and discusses potential policy solutions to the racial asset gap and America's low savings rate more generally.
Praise For Being Black, Living in the Red: Race, Wealth, and Social Policy in America, 10th Anniversary Edition, With a New Afterword…
"Being Black, Living in the Red is an important contribution to our overall understanding of social stratification in modern society. It provides an excellent introduction to the subject for students and is an important piece of scholarship for all social scientists interested in inequality."
— American Journal of Sociology
"Being Black, Living in the Red provides an insightful and thorough analysis of America's racial wealth gap. . . . A major statement that demands the attention of scholars, policy makers, and others interested in race and class dynamics in America. This book cannot be ignored, and it deserves credit for moving the discussion of race and class inequality forward in important new ways. Perhaps most important, it makes it possible to consider several policy options that are not usually part of the debate."
— Contemporary Sociology
"Within the race-versus-class framework, this is an outstanding book . . . A must read. The policy implications are weighty. As Conley argues, current policies meant to address racial inequality will not work. Equality of opportunity, given that wealth begets wealth, will never be enough to move toward racial equality. And it is with this realization that our nation must now wrestle."
— Social Forces
"Conley develops a very cogent argument for reorienting the debate of race and poverty. . . . In the context of the larger race-and- wealth discourse, Conley's work is an important contribution that adds a different dimension to the traditional notions of 'class.'"
— New Labor Forum
"Being Black, Living in the Red cogently and convincingly argues that much of the literature on racial disparities—in education, employment, and welfare receipt—suffers from a missing variable problem. The missing variable is family wealth." 
— Journal of Economic Literature
University of California Press, 9780520261303, 240pp.
Publication Date: December 10, 2009
About the Author
Dalton Conley is University Professor, Chair of Sociology, and Acting Dean of Social Sciences at New York University. He is also Research Associate at the National Bureau of Economic Research and Adjunct Professor of Community Medicine at Mt.Sinai School of Medicine.