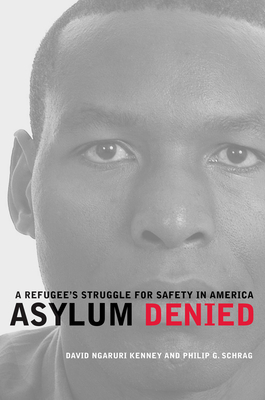 Asylum Denied (Paperback)
A Refugee's Struggle for Safety in America
University of California Press, 9780520261594, 360pp.
Publication Date: August 17, 2009
Other Editions of This Title:
Hardcover (5/1/2008)
MP3 CD (5/3/2016)
* Individual store prices may vary.
Description
Asylum Denied is the gripping story of political refugee David Ngaruri Kenney's harrowing odyssey through the world of immigration processing in the United States. Kenney, while living in his native Kenya, led a boycott to protest his government's treatment of his fellow farmers. He was subsequently arrested and taken into the forest to be executed. This book, told by Kenney and his lawyer Philip G. Schrag from Kenney's own perspective, tells of his near-murder, imprisonment, and torture in Kenya; his remarkable escape to the United States; and the obstacle course of ordeals and proceedings he faced as U.S. government agencies sought to deport him to Kenya. A story of courage, love, perseverance, and legal strategy, Asylum Denied brings to life the human costs associated with our immigration laws and suggests reforms that are desperately needed to help other victims of human rights violations.
About the Author
David Ngaruri Kenney came to the United States after he was persecuted in Kenya. He continues to pursue a career in public service and currently works at the Montgomery County State 's Attorney's Office in Maryland, USA. Philip G. Schrag is Professor of Law and Director of the Center for Applied Legal Studies at Georgetown University Law Center. He is the author of many books including Ethical Problems in the Practice of Law, with Lisa G. Lerman, and A Well-Founded Fear: The Congressional Battle to Save Political Asylum in America.
Praise For Asylum Denied: A Refugee's Struggle for Safety in America…
"Reminds us of the persecution that refugees face, takes our collective conscience and shakes it to the core."
— Financial Times
"Astonishing in its power to move and inform. . .Its core concerns for justice and reform remain directed at American society."
— Publishers Weekly
"A dismaying account of bureaucracy at its red-tape-bound worst. . . . Wrenching human drama"
— Kirkus Reviews
"A model of polished prose and informed advocacy ."
— National Catholic Reporter
"Reads like a suspense story."
— America Magazine