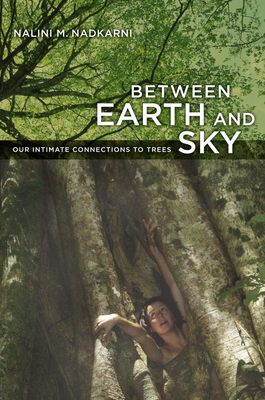 Between Earth and Sky
Our Intimate Connections to Trees
Paperback

* Individual store prices may vary.
Description
World-renowned canopy biologist Nalini Nadkarni has climbed trees on four continents with scientists, students, artists, clergymen, musicians, activists, loggers, legislators, and Inuits, gathering diverse perspectives. In Between Earth and Sky, a rich tapestry of personal stories, information, art, and photography, she becomes our captivating guide to the leafy wilderness above our heads. Through her luminous narrative, we embark on a multifaceted exploration of trees that illuminates the profound connections we have with them, the dazzling array of goods and services they provide, and the powerful lessons they hold for us. Nadkarni describes trees' intricate root systems, their highly evolved and still not completely understood canopies, their role in commerce and medicine, their existence in city centers and in extreme habitats of mountaintops and deserts, and their important place in folklore and the arts. She explains tree fundamentals and considers the symbolic role they have assumed in culture and religion. In a book that reawakens our sense of wonder at the fascinating world of trees, we ultimately find entry to the entire natural world and rediscover our own place in it.
Praise For Between Earth and Sky: Our Intimate Connections to Trees…
"A wide-ranging and eye-opening book about trees and our connections to them."
— New Scientist

"A wealth of entertaining arboreal facts and figures, but her personal anecdotes are the book's most compelling and inimitable feature."
— Publishers Weekly

"Nadkarni's writing is like a love letter to trees that effortlessly mixes poetry and prose with environmentalism, culture, history and science."
— Foreword

"Anyone who loves trees, who admires their steadfastness, who finds in their presence a certain peace . . . will love this book."
— Canadian Field-Naturalist

"Uplifting and edifying. . . . Nadkarni has given us . . . a kind of encyclopedic examination of nearly EVERYTHING that has to do with trees."
— Ecology

"Nadkarni introduces readers to trees in a stunning variety of ways."
— Frederick J. Swanson, Us Forest Service

"Nadkarni is a wonder. . . . Every page enthralls."
— Terrain Magazine
University of California Press, 9780520261655, 336pp.
Publication Date: October 28, 2009
About the Author
Nalini Nadkarni is the author of Rainforests, with J. Johnson, Monteverde: The Ecology and Conservation of a Tropical Cloud Forest, with N.T. Wheelwright, and Forest Canopies, with M.L. Lowman. She teaches in the Environmental Studies Program at The Evergreen State College and is President of the International Canopy Network. Her work has been featured in magazines such as Natural History, Glamour, and National Geographic and she has appeared in numerous television documentaries. In 2002, she received a Guggenheim Fellowship to better extend her work to the public.
Nalini Nadkarni is the 2010 recipient of the National Science Board Public Service Award, presented annually to an individual who has made significant contributions in public understanding of science in the United States.