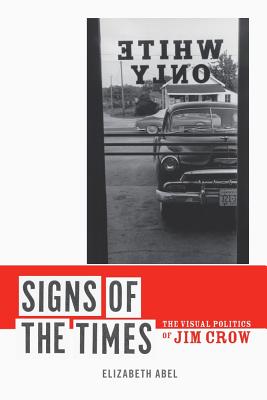 Signs of the Times (Paperback)
The Visual Politics of Jim Crow
University of California Press, 9780520261839, 416pp.
Publication Date: May 6, 2010
* Individual store prices may vary.
Description
Signs of the Times traces the career of Jim Crow signs—simplified in cultural memory to the "colored/white" labels that demarcated the public spaces of the American South—from their intellectual and political origins in the second half of the nineteenth century through their dismantling by civil rights activists in the 1960s and '70s. In this beautifully written, meticulously researched book, Elizabeth Abel assembles a variegated archive of segregation signs and photographs that translated a set of regional practices into a national conversation about race. Abel also brilliantly investigates the semiotic system through which segregation worked to reveal how the signs functioned in particular spaces and contexts that shifted the grounds of race from the somatic to the social sphere.
About the Author
Elizabeth Abel is Professor of English at the University of California, Berkeley, and the author and editor of several books, including Writing and Sexual Difference, Virginia Woolf and the Fictions of Psychoanalysis, and (with Barbara Christian and Helene Moglen) Female Subjects in Black and White (UC Press).
Praise For Signs of the Times: The Visual Politics of Jim Crow…
"An impressive study of the visual politics of compulsory race segregation in the United States."
— African American Review
"Abel complements stunning photos of a sometimes forgotten world - where "White Only" and "Colored Only" signs were a disturbing legal and social reality - with an in-depth scholarly examination."
— San Francisco Chronicle
"A rich contribution to American studies, Signs of the Times reanimates the critical conversation about racial formation by turning away from physiological signs and turning to literal ones."
— Melus
"Abel's accomplishment is formidable, and all students of the American past owe her a tremendous debt for her careful work in creating this paradoxically striking 'archive of the ordinary'."
— Left History
"Fine and thoughtful."
— New Books In History
"Engaging and intellectually stimulating. . . . [Abel] has done invaluable work."
— Ulrich Adelt, University of Wyoming
or
Not Currently Available for Direct Purchase